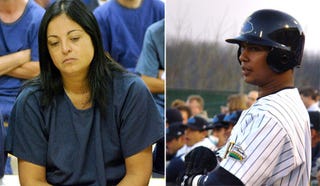 The story of Jose Tabata and his 43-year-old wife is the gift that keeps on giving. Today's episode: She apparently told the 20-year-old outfielder that the baby she (allegedly) abducted was his.
Also, he had no idea when he married her (at a check cashing outlet) that she had spent nearly three years in prison for her part in a robbery. Are you starting to feel sorry for this guy? I confess that I am.
Pirates prospect Jose Tabata, reading from a statement in Spanish, said his wife lied to him about being pregnant and then showed to him a baby that she later handed over to authorities, who arrested her on charges of child abduction. He said Amalia Tabata Pereira, 43, also never informed him that she spent two years and nine months in prison in connection with a fraud and arson case in the same Tampa area where they met and wed while he was a member of the New York Yankees' Class A affiliate there.

"The truth is that my wife told me many lies that, until this whole situation began, I did not know," Tabata, 20, said early this afternoon before taking the field in Pirate City, returning to baseball activity with the Class AA Altoona Curve after taking two days off since the arrest of his wife of 14 months.

"As you and Pirates fans get to know me, you'll understand that, when this is all over, I will never be able to forgive her for her cruel actions. You will also understand that I will do everything possible, with the support of God and my family here with the Pirates, to overcome this craziness. The truth is I would never wish this situation on anybody, but I know that life has its good and its bad, and I know that the good times are not too far off in the future."