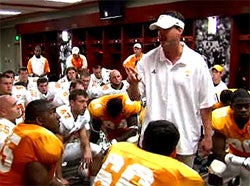 Stop me if you heard this one before: Lane Kiffin may have committed yet another recruiting violation. I know the man can't roll out of bed without doing something wrong, but does ESPN really need to be his facilitator?
By Tennessee's own self-reported count, Kiffin has already committed five secondary violations since being hired by the school in January. (I don't have statistics to back this up, but I'm sure this is not an egregious number for a major program.) But his controversial reign has people buzzing, which is why ESPN decided to do an "Outside The Lines" segment on him—a segment that included a few seconds of Kiffin having a sitdown meeting with couple of recruits. And guess what ... that's another violation!
Why is that a violation? Because the media may not observe a coach having contact with a recruit. So in a story that discusses Kiffin's recruiting violations, ESPN helps him commit one, airs it on television, then calls him on it after the fact. (Bob Ley pointed out the possible violation at the end of the segment.) Even though the camera crew may not have been aware that it would be a violation when they filmed it, the producers clearly knew that it was before they aired it. So what's up with that? Isn't tWWL essentially complicit in this rule breaking?
At least they were able to clear up the controversy over Lane's gas pumping comment: