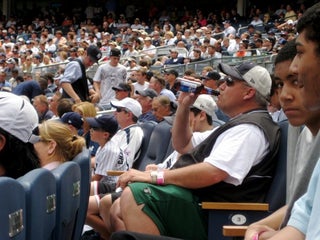 S
Got an image you'd like to see in here first thing in the morning? Send it to tips@deadspin.com. Subject: Morning crap
I think Rex Ryan is my new favorite NFL coach. Buddy's boy sitting in the Legends Suite, but it appears he did everything possible to make damn sure he didn't look like a guy who could afford $500 seats: pullover top white-t, fat guy coach's shorts, two-toned hat, Zook shades, chugging a Miller LiteBud Light (he's a health nut, obviously).
H/T to reader G. Amson.
*****
Good morning. It's Monday. Here's to a short and sunny week.