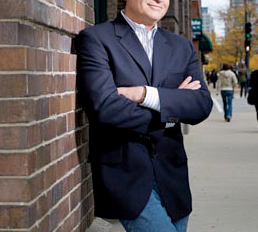 The Rumor: Jay Mariotti's death wish/dream to return to the Chicagoland newspaper universe is almost complete — he's finally heading to the Chicago Tribune. It's just unfortunate that neither he nor anyone at the paper will talk about it.
Mariotti's flirtation with hopping over to the Tribune side began last August. On the way out of the Sun-Times, no one was spared. He torched the newspaper industry as a whole. His former employer. His former colleagues. This was expected because, as you may have noticed, Mariotti's created a cottage industry for insufferable prickdom.
In January, he stuck firm to his down-with-newspapers crusade when he joined AOL's Fanhouse as a regular columnist. The new digs gave him more real estate to spew Mariotti crappage and the clout to piss all over the print industry whenever he got ornery. Yesterday's column was particularly galling because he seemed to forget that he was writing for a blog altogether when he belatedly opined on the Jerod Morris-Ibanez ordeal with laughable ignorance and extreme prejudice toward the "reckless idiots" who spread unfounded rumors and speculation from the safety of a blood relative's cellar or what have you. Of course, many of Fanhouse's writers weren't happy about this, since the column pretty much bashed them too (two weeks late). But Mariotti is a professional. He's trained in libel law. He drives a Dodge Stratus. So he says. Mariotti was so off in his criticism and approach he even managed to briefly turn long-time Emeritus basher Gerard Cosloy of Can't Stop The Bleeding-infamy into a Will Leitch sympathizer. Brilliant.