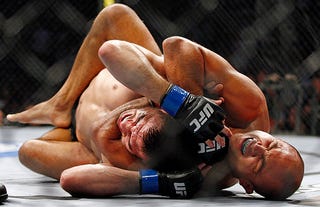 By now you know that Mola Ram Anderson Silva ripped out Forrest Griffin's heart and flambéed it before 17,500 fans in Philadelphia. What you (hopefully) do not know is this: Gerard Butler plays with his haggis at the urinal.
Before we get to that, however, some background: I arrived at the scene on Friday to find my guide, whom you shall know as Taco, crippled by drink. This abomination had gone on a J.Crew shopping spree and locked himself in his apartment with his cat, Tranny, a devil-beast that oozes pus from multiple back sores.
"Don't try anything funny," Taco said, as he let me in. "I keep a length of beating pipe in my bedroom."
Philadelphia, as I was quick to learn, is a pipe-beating town, a place where on Tuesday afternoons, men think nothing of sprinting down Broad Street with lengths of steel and a desire to maim. Philly is also a lite beer & jorts town and, hence, the ideal setting for MMA, which became obvious when we reached the arena on Saturday and encountered a vast collection of snaggletoothed shankers, many of whom seemed to know Taco personally.
"I'm a big deal here," he snapped and barged past security.
Since Friday night, Taco had been on a nasty trip about John Kruk's younger son. A few years back, Taco had infiltrated ESPN the Weekend and been seized about the waist by lil' Kruk and violated while Big Kruk looked on approvingly. Clearly, the memory still haunted my friend. "You can't write any of this down," he said.
And thus I wrote it down and we skulked into the Wachovia tunnels to set about our business. Here's what I learned/observed during the next nine hours:
1.) I am a "disgusting blogger blogging for a disgusting blog." I was told this several times. In fact, I was introduced in this fashion to an ESPN the TV Producer. "You're from Deadspin?" she sniffed. "I shouldn't even talk to you. ... You just hammered Erin Andrews." Really? Here? By the look of things, this brute was attending the event as a UFC guest with no intention of committing journalism. Go on then, you heavily tattooed paragon of virtue. Lecture away. Alas, when I took out my pad to record the piety, the fear gripped her and she removed herself from my disgusting company. Which was a pity. Because I wanted to film her naked.
2.) Anderson Silva turned Forrest Griffin into a stumblebum with one of the most outlandish and amazing knockout punches ever thrown — a goofy, backpedaling right flick of a jab. Here's what Marc Ratner, the former head of the Nevada Athletic Commission and a man who knows from fisticuffs, said when asked if he'd ever seen such a knockout: "No."
Here's Roy Jones, Jr., ever the self-promoter, on the same question: "Only three fighters in the world can do that. One was Muhammad Ali. The second is Roy Jones, Jr. The third is Anderson Silva."
Of course, Ali knocked out Liston with a similar-looking punch that the conspiracy nuts have been freeze-framing for decades. And, sure enough, right after the Silva-Griffin fight there was talk of a dive, which doesn't make much sense (unless a sneak Silva-Jones bout actually is in the works). The punch landed flush. And Griffin was already hurt/broken so profoundly that lil' Kruk could have finished the job.
3.) A smattering of advice screamed at fighters by Philly's excitable fans: