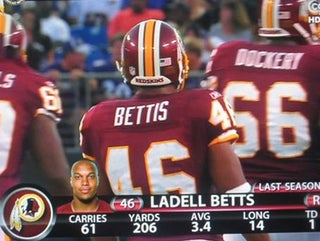 S
Got an image you'd like to see in here first thing in the morning? Send it to tips@deadspin.com. Subject: Morning crap
It seems that uniform mishaps are not just the provenance of Washington's baseball team. It's more of a citywide infrastructure problem. Although, if it creates a more inspiring personal tale that leads to playing the Super Bowl in Ladell Betts' hometown (he's from Kansas City) I'm sure the fans are all for it.
Only three more preseason games to sort it all out. Go teaim! Oh, I guess there is an I in there! How about that?
[Nationals Enquirer/DC Sports Bog]
* * * * *
Here comes Friday. Let's make it smooth.