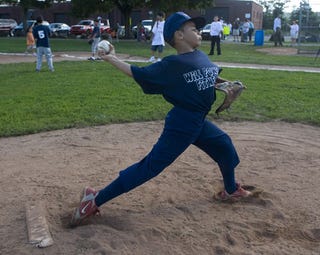 Jericho Scott was the 9-year-old who briefly became a media sensation when he was deemed "too good" to pitch in his youth league. A year later, Craig Fehrman checks in on Jericho and finds that everyone got the story wrong.
NEW HAVEN, Conn. — Dom Aitro Field sits in a dense, hilly neighborhood, right behind a battered K-4 school where the "Free" in the "Drug Free Zone" sign has been spray-painted over. Still, when the weather's just right, the sunlight and the thick trees circling the field create a shadow that splits the diamond in half, from home to second to center field. The dugouts' peeling aluminum roofs and the wet laundry hanging 15 feet away seem to disappear. Dom Aitro Field becomes the perfect place for baseball.
On Saturday, Aug. 1, the weather's just right, and Mark Gambardella's New Haven All-Stars are playing in the PONY Baseball North Zone Tournament. It's a double-elimination affair, with the winner going to the Mustang (10 and under) World Series. And, in the bottom of the fourth inning of the tournament's first game, Jericho Scott nods at his catcher, takes a deep breath, and winds up.
You remember Jericho, right? Last year, he became a national sensation — the 9-year-old pitcher banned by his league for being "too good." He also became, in what is always a competitive category, the worst-covered sports story of the year.
* * *
The New Haven Register inaugurated the Jericho Scott era on Aug. 22, 2008, with a story on the controversy surrounding the Liga Juvenil de Baseball de New Haven. The LJB, an independent inner-city league, had told Wilfred Vidro, Jericho's coach, to stop pitching him because he threw too hard and presented "a danger to other kids in the league." When, two games later, Vidro sent Jericho back to mound, the LJB ruled it a forfeit.
Jericho didn't go viral until a few days later, when the sports blogosphere's major players latched on to a Register follow-up about Jericho's parents protesting the LJB decision. Old media and new media — both followed the same pattern, praising Jericho, mocking the LJB, and lamenting the everyone-gets-a-trophy contagion.