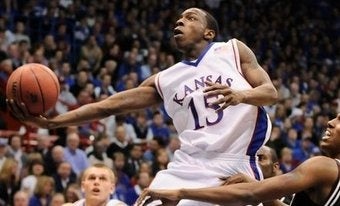 Jayhawk guard Tyshawn Taylor suffered a dislocated thumb during a brawl between KU basketball and football players in front of the student union. I bet the dispute had something to do with evolution.
However, Taylor did give some warning on his Facebook page:
"keep my name out ya' mouth for you get smacked in it," he wrote at 11:12 a.m. Tuesday, and 30 minutes later he posted, "never get outta character .. I'm always a G about it."

About 4 p.m., Taylor posted, "(racial slur)s be muggin me ..you know I'm mugging back."
(Racial slur)s, huh? I wish those people would just (derogatory remark.) Taylor later admitted to dislocating his finger "throwing a punch," which will be very helpful to authorities should they decide to press charges. This is at least the third high-profile fight in the last year between athletes from rival teams at the same school. (Michigan and Michigan State have both had notable football-on-hockey violence.) Can't they all just agree to stick together and beat up on the kids from weaker D-III schools instead? You're tearing us apart!