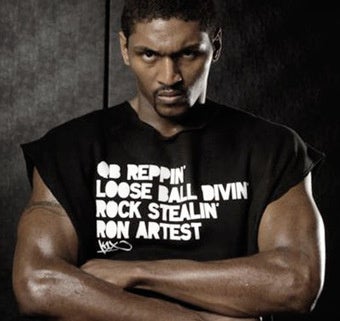 Writing an "open letter" to Ron Artest demanding that he clean up his act and then emailing it to him seemed like such a good idea. Who could have guessed Artest would respond with, "Suck a cock"?
Blogger Kyle Slavin of the site "The Second Coming" wrote a very long (and pretty condescending) post last week explaining to Artest what it means to be a Laker and how his wild child antics will not fly with the L.A. fan base. Oh, he recognizes the talent, but if the Lakers don't repeat as NBA Champions it's pretty much going to be all Ron's fault.
Let me be absolutely clear: you absolutely cannot mess this season up. You fail here, and you will never redeem your career again. You ruin this good thing we have going in LA, and the rest of your basketball days will be tarnished by it. In LA, we fans run deep. We know our basketball, we know our history, and we have more than a passing interest in the Lake Show. We will be here longer than you. We have more influence than you. Win us over, and you will be a Hall of Famer. Lose our faith, and you will never see this level of love again.
See, people in Houston and Indianapolis might be willing to put up with technical fouls and fights, but not the good, respectful citizens of Los Angeles. So all Ron has to do is make zero mistakes, make every L.A. fan love him, and also teach Andrew Bynum, Jordan Farmar and Sasha Vujacic how to play basketball. Boom ... he's a Hall of Famer! Simple.