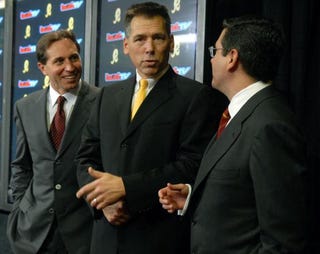 Drew Magary's Thursday Afternoon NFL Dick Joke Jamboroo runs every Thursday during the NFL season. Find more of his stuff at his Twitter feed.
Let's play a game. Imagine you have a fantasy football team. Not exactly a stretch. Now, let's say you decide to make a trade in your league. A really fucking stupid trade, something along the lines of trading away Marmalard for Nate Washington. This is a stupid trade. Once you make it, every other owner in the league pillories you for it. They call you a shithead. They tell you that you don't know what the fuck you're doing. You thought it was a really solid trade when you made it. Yet now everyone's castigating you for it. Furthermore, as the season plays out, it becomes clear that Marmalard is putting up fantastic numbers and Nate Washington is doing jack shit. So the other owners happily rib you for your idiocy from now into eternity.
Now, if you're a normal person, or as close to normal as someone can be, how do you react to this scrutiny? Well, I think a normal person would, despite initially thinking the trade was a good idea, come to realize that perhaps the wisdom of crowds was correct, and that they made a mistake. Even the most stubborn of people would be helpless to argue against either the collective opinion or the ensuing result. They'd eventually feel dumb, regret their decision, and they'd do all they could to prevent it from ever happening again. This is what a normal person would do.
This is not how Washington Redskins owner Dan Snyder works.
If Dan Snyder had made that trade, he would have done five things. First, he NEVER would have admitted it was a mistake. Not even to himself. Secondly, he would still feel he made the right move even as the season continued, even as statistical evidence built up PROVING that the trade was idiotic. Thirdly, he would have had his lawyer issue a gag order to the other owners in the league, demanding they cease their criticism and having all written taunts erased from the league message board. Fourth, he would then make an even DUMBER trade, and ask his lackey to execute it. Finally, he would sip brandy from a snifter and congratulate himself on a job well done.
There are many bad franchises out there in the sports world, but there is a distinct difference between a franchise being shitty and a franchise being utterly hopeless. Even historically bad teams like Arizona are able to shine on occasion. No, I'm talking about the Raiders, Clippers, and Orioles of the world. I'm talking about franchises that have no hope of turning things around because the man who owns the team refuses to relinquish his cold death grip upon it. Those are the truly hopeless teams out there. The teams that refuse to pull themselves out of their own dysfunction. Teams for whom there is no future, just an endless cycle of building up shaky scaffolding and then tearing it back down again.
And in the NFL, the very worst example of that hopelessness is located right here, in DC.
This decline has been a long time in the making. It's not as if Dan Snyder hasn't been criticized for his stubbornness and his lack of football acumen before. He has. Repeatedly. And that's the problem. Snyder has owned the team for a decade now. In that time, he has displayed a lack of self-awareness that borders on the sociopathic. And after ten years, it's fair to assume now that he will NEVER change. He will never listen to reason. He will never acknowledge failure. He will never accept that the hundreds of thousands of voices telling him he's fucking it all up may have a point. No, no. He's just going to continue on suing season ticket holders, banning Dan Steinberg from posting stadium photos of fans in dissent, hiring clearly unqualified head coaches, and destroying any credibility he might have with potentially talented coaches and GM's who might otherwise sign on to help the team win.
I have lived in Maryland for five years now. And while I delight in the Skins misfortunes from time to time (okay, every day), it's difficult not to feel a touch of sympathy for some of the fans here. This is a football town to the core. Enthusiasm for the Redskins here can't be overstated. These people are fucking CRAZY about this team, in good times and bad. They even willingly go to games at FedEx Field, which is like watching a game inside a prison. They're willing to eat a lot of shit for this team, no matter how many times Snyder has boned them over. And what do they get for their troubles? They get a team that is virtually unwatchable. Any time the Skins connect on a long pass play, it feels like a mistake. And they get people like Simmons calling them the worst fans on earth because some Steelers fans stormed the joint last year. Well, Billy Boy, YOU try heading over to that stadium and see if you think it's worth a shit. Because it isn't. It blows, and tales of all the cynical ways in which the Skins try and part fans from their money are legion in these parts.
At least Al Davis is fucking old. Yeah yeah, he's a vampire and can't be killed blah blah blah. The reality is, that old man is gonna croak WAY before Dan Snyder does. And when that happens, there's a chance the Raiders could end up in the hands of someone who isn't a complete fucking nutbar. And at least Davis had the courtesy of waiting until he was old and senile before turning incompetent. Even Mike Brown makes a good decision once in a blue moon. Even the LIONS managed to fire Matt Millen. They took eight fucking years longer than they should have, but it did happen. Redskins fans are offered no such comfort. Snyder will be in charge for decades, he will continue to repel any and all criticism with childish disdain. LALALA, FANS, DAN CAN'T HEAR YOU! HE'S WEARING HIS JACUZZI SUIT!
To know that this bizarrely irrational man will always be steering the team down a seemingly endless road into the desert, and that nothing can be done about it… even the douchiest of douchey Skins fans can't be too pleased. It's quite a skill, when you think about it. To think that, in ten years of ownership, Snyder has learned nothing from his experiences, and has even managed to regress. Look at this quote from Steinberg's post yesterday from team GM/sexual gimp Vinny "Pegboy" Cerrato regarding the team's hiring of Sherman Lewis (who was, before the hiring, working as a BINGO CALLER in an old folks home, I shit you not) this week as a team consultant:
To me, the most ominous quote (outside the "Kiss of Death" bit) came from Vinny Cerrato himself, when he said he didn't know what Lewis's role would be, but that "they'll get that figured out here in the next day."
Ten years. Ten years and this team is still bringing people in without knowing what the fuck to do with them. What normal person in this position goes this long without learning anything, and denies that anything is wrong? How is that possible? If that isn't hopeless, I don't know what is. Dan Snyder, you are fucking worthless. You are a tiny little sociopath who should be wearing giant old person sunglasses and running one of the Koreas. You fucking suck, and it seems you're more than happy to bask in it. The only thing you can do to help your team at this point is to walk in front of an oncoming cement mixer. Way to ruin everything, shithead. DIE.
The Games
All games in the Jamboroo are evaluated for sheer watchability on a scale of 1 to 5 Throwgasms.
Five Throwgasms
Patriots at Broncos: Ugh. The bye weeks. You know what they should do? Just have the byes during weeks 8 and 9. Give half the league one week off, the other half the next. Don't spread out the pain. Don't rape my fantasy team for six straight weeks. Just get it the fuck over with. This slow, agonizing drip of teams taking the week off only ends up producing lackluster weeks like this one.
By the way, a giant FUCK YOU to Tom Brady's weak little knee for destroying roughing the passer and unnecessary penalties across the entire league. Every game I've seen this year has featured at least one completely unjustified personal foul penalty. I've seen secondary players flagged for putting a shoulder in the wideout's chest. I've seen defensive ends flagged for tackling the QB at the waist. I've seen players flagged for roughing the QB despite merely grazing them half a millisecond after the ball is thrown. It's fucking ridiculous. I understand the need to protect offensive players as the game grows faster and more violent. That's fine. I have no problem with the rules. My problem is that the rules are being enforced poorly. This isn't shit that refs should be figuring out on the fly. They should fucking be consistent about this shit right now. Teams are getting hosed left and right. Defenders are letting QB's run free because they're afraid to wrap up. It's a joke.
Four Throwgasms
Bengals at Ravens: The Bengals nearly tied last week. I asked the gents at KSK if you would be knocked out of your suicide pool if the team you picked ties. They all agreed that you would. If I lost $10 in some fucking suicide pool because my team tied and didn't actually lose, I think I'd drive a van into a kindergarten class.
Falcons at 49ers: One more thing about the refs. Reader pemulis emailed in to say that refs always call the penalty "illegal block in the back". You don't need to word "illegal" there. All blocks in the back are illegal. It's not the NFL unless unnecessary verbiage is involved.
Three Throwgasms
Jets at Dolphins: Simmons made the point a while back that the four categories on the injury report aren't anywhere specific enough, which is true. In fact, there's really only one category on the injury report that worth a shit, and that's "questionable." Players who are probable end up playing. Players who are doubtful rarely do. You barely need those two categories. In fact, they only serve to clutter up the report. Just tell me who's questionable. Just tell us who's 50/50 so I can get right to shitting my pants.
Texans at Cardinals: Here's Chris Berman on the Twitter phenomenon. "You are taught to think before you speak. Twitter flies in the face of that." Hmm. Guess you don't really follow your own pearls of wisdom, do you? FUCK YOUR FACE.