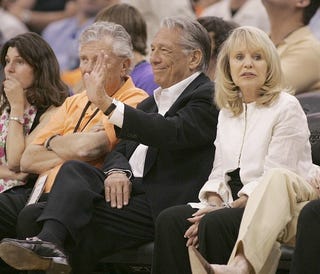 Racist greedhead Donald Sterling will pay $2.73 million to settle a federal housing bias lawsuit accusing him of all kinds of sleazy and thuggish behavior, none of which matters in David Stern's NBA if you're an owner.
The settlement is said to be the largest of its kind. Dan Wetzel rightly wonders why more people aren't talking about Sterling. Maybe it's because there's just so much to talk about that no one knows where to begin:
• In 2003, 19 tenants and the Housing Rights Center filed a housing discrimination lawsuit against Sterling, one of the biggest landowners in Los Angeles. (That case, too, was settled.) According to depositions given by one of Sterling's property supervisors and obtained by ESPN The Magazine's Peter Keating, Sterling didn't like renting to black people ("they smell"), Mexican-Americans ("just sit around and smoke and drink all day") and people with children ("brats"), though he did like Koreans because "they will take whatever conditions I give them and still pay the rent." (The property supervisor, Sumner Davenport, sued Sterling for sexual harassment. She lost.)
• When a tenant asked to be compensated for water damage in her flooded apartment, Sterling allegedly told Davenport, "Just evict the bitch."
• According to former general manger Elgin Baylor, Sterling envisioned a "Southern Plantation type structure" for the Clippers, one in which, as he allegedly put it to Baylor, "poor black boys from the South" played for a white head coach.