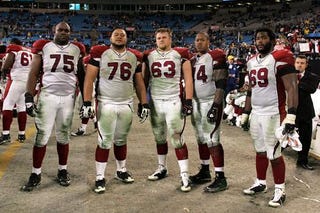 Drew Magary's Thursday Afternoon NFL Dick Joke Jamboroo runs every Thursday during the NFL season. Find more of his stuff at his Twitter feed.
This is a very brief message to a very specific set of individuals, namely junior high school, high school and college offensive linemen. Do you play offensive line? Stop. STOP. Quit. Give up. Unless you're good enough to get a free ride and/or a pro contract, you shouldn't play offensive line. Ever. You should demand a position switch to defensive line, or you should quit football and play something else that's fun and awesome.
I don't need to tell you that offensive line is the right field of football positions. You get thrown there if you're too fat and slow to play any other position. And yet, countless newbie offensive linemen in America are being brainwashed by coaches as we speak. Hoodwinked. Bamboozled. These coaches are telling them that playing offensive line is awesome. When you play o-line, all coaches feed you the same line of bullshit about why what you do is so cool:
1. "You get to hit someone on every play!"
This is somewhat true, but you don't get to TACKLE anyone. If you're lucky, you get to catch someone napping and pancake the shit out of them. Otherwise, you don't get to hit people. You get to PUSH them. Or attempt to push them, only to slide off their bodies and fall awkwardly to the ground, at which point your hands get cleated. You don't get to hit someone, wrap your arms around them, and throw them to the turf like the bastards that they are. THAT is satisfying. Blocking people is not.
2. "You are the heart and soul of this team!"
Again, LIES. The one crazy freak athlete you had on your high school team (and most every high school team has one) who would return five punts a game for TD's? THAT guy was the heart and soul of the team. You are interchangeable assholes.
3. "The offensive line is a brotherhood."
Big deal. So is the Lion's Club. At least I won't lose a fingernail when I join their outfit.
Young athletes of today, I'm here today to tell you that offensive is the least enjoyable, least gratifying position in any sport ever. Even the right fielder gets to bat. At least hockey goalies get cool masks. Offensive linemen do nothing cool. You would never play offensive line recreationally. Ever. It blows. There's a reason wide receivers always have to be reminded to block, and that's because blocking is boring and shitty. You can't fully use your hands if you're an o-lineman, which makes you the lone football player who has to act like a soccer player. You never get to touch the ball, or score. You never get to sack the QB. All you get to do is push people, or blow your assignment and get yelled at. You are the fucking extra in the movie.
Many offensive linemen are conditioned to sneer at skill position players, calling them prima donnas and glory hogs. This is because skill position players get to have fun. SHITLOADS OF FUN. If you were a gifted athlete, and you could play guard and quarterback with equal skill, which position would you prefer to play? It's not even a debate. I have no evidence to back this up, but IT'S A FACT: 95% of all offensive linemen, professional or not, don't like playing offensive line.
I am biased here, of course, because I played offensive line for ten years, and I sucked at it. Sucked HARD. I do not know why I played for so long. I really don't. I never played. I rode the bench the whole time. I liked the idea of being a football player than I did actually playing the game, and that's never good. I quit my college football team before my senior year, and my senior year was a GLORIOUS affair, filled with beer and Mario64 and actual hooking up with girls. No more three-hour practices for me! I've got boobs to fondle! I spent my entire senior year pissed at myself that I didn't quit playing football sooner. Now I've got two back surgeries to my name, and I look like an asshole when I walk.
Now, maybe some of you young offensive lineman out there really love it, and are truly passionate about playing the position. My congratulations to all three of you. For the rest of you stuck playing offensive line, QUIT. You aren't a pussy if you quit. You aren't letting your team down. You are walking away from playing a position whose crushed-fingers-to-fun ratio is off the fucking charts. Give it up. Go play soccer, or rugby, or some other sport where you get to run around, have fun, and do cool stuff. Or play NO sports at all. Smoke weed. Did you know I didn't start smoking weed regularly until senior year? IDIOT! HOW COULD I BE THAT SHORT-SIGHTED? Weed is awesome!
Don't make the same mistake I did. Don't spend every fall of your youth trapped on a soaking wet field doing duck walk drills and foot chopping exercises. Offensive line is the chain gang of sports. You are in a PRISON. Quit. Leave. ESCAPE. Go enjoy yourself. LIVE, DAMMIT! Don't waste away on an offensive line. It's totally for suckers.
The Games
All games in the Jamboroo are evaluated for sheer watchability on a scale of 1 to 5 Throwgasms.
Five Throwgasms
Pats at Colts: The day he retires, shouldn't the Colts fire whoever is their head coach and just make Peyton the head coach? He's more prepared than 98% of the league's coaches. The guy is a fucking savant. He could engineer Russian nuclear missile subs at this point. Hell, he's already the de facto head coach of this Indy team. At the very least, I'd hire him to be an offensive coordinator immediately. I'm telling you, you may as well quit fighting against having Peyton Manning as a constant fixture in your NFL viewing life. He'll be around forever.
Bengals at Steelers: I was watching the 5,000 ads for that Droid phone they keep pimping during games, and I noticed that, in the legal copy, there was this disclaimer:
"DROID is a registered trademark of LucasFilm Ltd."
So, Verizon paid George Lucas untold shitloads of cash for the right to name their phone the Droid. I'm always in favor of someone taking money from Verizon, but that's amazing. George Lucas is such a cash whore, he trademarked a single fucking word and made a mint off of it. He didn't even have to lift a finger, or create some sort of CG jive-talking eel to do it. I don't whether to be in awe, or to go spit on the fucker's house.
Four Throwgasms
Eagles at Chargers: I bought my wife "Twilight" for her birthday. Big mistake. HUGE mistake.
Three Throwgasms
Bears at 49ers: It's your Thursday Night game with Matt Millen. GAHHHHH MATT MILLEN NOOOOOOO! I've heard Millen call a couple college games this year. He's been okay, I guess. But still, you sit there listening to him, and the whole time, your brain is saying, "HOLY FUCK. IT'S MATT MILLEN, THE LOSINGEST LOSER IN THE HISTORY OF LOSING. AND THEY'RE PAYING HIM TO TALK! WHAT THE FUCK?" It's weird. It's distracting. It's like he broadcasts the entire game with his dick sticking out of his fly.
By the way, NFL scholar and very serious person Gregg Easterbrook wrote this week that the 49ers are now losing because they signed Michael Crabtree.
Beware the Crabtree Curse! San Francisco opened the season 3-1, with its sole loss to powerhouse Minnesota on the game's final snap. Since signing Michael Crabtree, San Francisco has lost four straight — the Niners just rolled over at home against the Titans, who came into the contest 1-6. Coach Mike Singletary had San Francisco's players buying into the notion that no one's bigger than the team. Then, suddenly, you can jerk San Francisco around all you want and get $17 million guaranteed as your reward. San Francisco management's cave-in to the me-first Crabtree triggered an instant losing streak, by communicating to other 49ers the message that the team-first stuff was always just empty talk. Caving in to Crabtree may cost the Niners their season.
Really, Gregg? Does Michael Crabtree play quarterback? Or defense? Because the 49ers are horrible at defense, particularly pass defense. What should the Niners have done, Gregg? NOT signed Crabtree at a reasonable level and lose their draft pick? When Crabtree decided to end his holdout because he desperately WANTED to play? And how were the 49ers abandoning team-first principles when they refused to capitulate to the high salary demands of an individual player? Isn't making sure you sign a talented player without busting your cap EXACTLY a team-first thing to do? And isn't it a smart, team-first move to welcome the guy with open arms, rather than treating him like a fucking leper and holding an endless grudge when he arrives? Oh my God, paying a player $17 million RUINS chemistry! Payroll discrepancies never happen on other NFL teams!
Easterbrook says Crabtree ruined the 49ers with "waves of negativity". OH NO! THE NEGATIVE WAVES! I CAN'T SEE THEM, BUT THEY'RE DISRUPTING OUR PRECIOUS AURAS!
Keep in mind: Gregg Easterbrook has used his column to urge everyone to go to church, and to urge people to never leave the house after midnight because bad things happen. Also, he plays poker with Nazi Shark twice a week. He's a fucking idiot. And verily the Dick Joke God chortled at that pretentious dicksmack.
Falcons at Panthers: Thanks God Mike Smith punched someone. Now he finally has a distinguishing characteristic. Mike Smith? Who? Oh, you mean the Mike Smith who tried to punch out DeAngelo Hall? Oh, he's cool.
Cowboys at Packers
Two Throwgasms
Seahawks at Cardinals: YOU WEREN'T MAN ENOUGH, KEN WHISENHUNT. For real, Anquan Boldin played for the Cardinals with STEEL PLATES IN HIS FUCKING FACE, and no one can bother to tell him he's been deactivated? That's semi-Haleyesque.
Jaguars at Jets: Before we get to this week's poop story below, a quick one of my own. I had to wake up to feed my kid at 6AM earlier this week. I got up and got out of bed. It was still dark outside. I went downstairs to make the bottle, and I fed my kid. All in the dark. Before I got back into bed, I realized I had to take a shit badly. So I head to the john, fart, and sit down to take a shit. I got up and put my boxers back on. They were wet all in the bottom, which was weird. I figured I pissed on them somehow, so I chucked them in the hamper, threw on a new pair, and went back to bed.
One hour later, I wake up and it's light outside. I go to the bathroom. There's liquid SHIT all over the bathroom floor. I freak. I run to the hamper and check the boxers I removed. They're drenched in liquid poop. I check the sheets. Poop. Poopy water everywhere, and I have no idea how it happened. I sat down to shit. My asshole was centered over the toilet. How did all this poopy water get all over the place?
So I'm sitting there later that night, eating dinner with the Mrs. When suddenly, in the middle of the meal, I cry out:
THE FART! I MUST HAVE SHIT STANDING UP WHILE FARTING! IT ALL MAKES SENSE NOW! I AM MONK!
She never finished dinner. Oh, and that story reminds me of the Jaguars.
Bills at Titans
One Throwgasm
Saints at Rams: Okay, so our Asshole Coach Digest got off to a rocky start with this whole Pat Murphy fiasco. But I'll be damned if I give up on a good idea. This week, we got flooded with story after story from poor souls who were terrorized in their youth by asshole, scumbag coaches WHO WILL REMAIN NAMELESS FROM NOW ON AND WERE DEFINITELY NOT PAT MURPHY, WHO IS A LOVELY MAN. Here's one example, from Nick:
Middle School, so like 8th grade. All wanna-be football players are gathered to sign up. Coach calls us down one by one to fill out our names, address, etc. I get down there and he asks my position. I say o-line. He head-butts me. No helmet or anything. Just grabs my head (hand on each temple) and slams his forehead into mine. Still not sure why.
Or THIS one, from apostles03:
I'm older than most Deadspinners, and physical abuse from coaches and teachers was tolerated a lot more when I was a kid than it is nowadays. We had a head coach in my high school program back in the early '80's who wore a whistle around his neck, secured by a leather cord. When he got especially pissed off about something, he would take the whistles off of his neck and literally whip a kid with the cord-often he would hit the shoulder pads, but on many occasions he struck the neck or the exposed back/stomach under a practice jersey. This happened maybe every other practice, at least once, to some poor kid.

I personally had to hide welts from my parents or lie about how I got a mark on my back because I didn't want to have to quit football. My parents never found out, but I'm sure some other parents knew. However, nothing was ever done about it.

One guy (an offensive guard) got hit so many times we called him "Toby". Think of the scene from Alex Haley's "Roots." 80's humor! Slap me five!

I'd sure like to whip his old carcass with a leather cord one time before he dies.
You see? Headbutts? Whippings? We can't let these stories go untold! More responsibly reported and safely anonymous emails on Monday.
Ravens at Browns: Good God. This is the Monday Night game? Holy shit, this is awful. It's rare you see a sporting event that could be ENHANCED by Chris Berman talking at the half.
Chiefs at Raiders: My mailman looks like Tom Cable. EXACTLY like him, right down to the constant sweating. And he delivers the mail the exact same way I would imagine Tom Cable delivering the mail. He just jams that shit into the slot as brusquely as humanly possible. He could give two shits if anything tears or folds. He just rapes the hell out of our mail slot. I really need to buy a mailbox.
Bucs at Dolphins: Our own Will Leitch wrote a rather pleasant and complimentary piece on Bill Simmons this week. I don't disagree with most of what Will wrote. Simmons absolutely created a new style and made old-school sports columnists instantly obsolete. I used to read him compulsively and still read most anything he writes about football or basketball. But I will tell you this: Underneath it all, Simmons still has the same DNA as the Mariottis of the world: thin skin, a steadfast belief that he's a genius when it comes to all things sports-related, bad nicknames for people (Dumbleavy? Really?), and a very small well of repeated joke memes. His voice was completely new and refreshing, but the message is often the same as the old guard. "These coaches don't know what they're doing!" "I told you something I predicted would come to pass!" There's still that self-lionization. And that's the frustrating thing about Simmons. I wish he'd leave those vestiges of the old sports writing world behind. He doesn't need them to be great. I wish he didn't always feel compelled to be the smartest asshole at the bar. Then he'd become an even greater force than he already is.