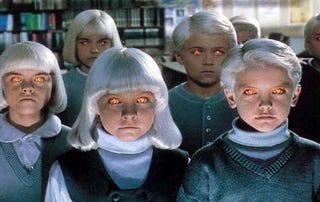 Drew Magary's Thursday Afternoon NFL Dick Joke Jamboroo runs every Thursday during the NFL season. Find more of his stuff at his Twitter feed.
I have two children. One is nearly four. One is nearly one. I'm not having any more. No way. That's it. And you know why? BECAUSE LITTLE KIDS RUIN YOUR FOOTBALL WATCHING.
I don't get these people who have 900 kids, like those asshole Duggar weirdos. Having little kids means your life is bound and gagged until they are old enough to tend to their own business. Every baby you have puts that eventual freedom off another few years. It prolongs your sentence. Oh, how I yearn for the day when my kids are old enough to go piss off to the mall with their retard friends for three hours while I watch the game. Or the day I can accompany them to a REAL movie, where people get shot and fucking killed. Or the day I can take them to a restaurant and not have to feed them. Got a little kid? Here's how the trip to the restaurant goes:
1. Walk in at 5PM.
2. Sit down, order shit before the hostess can even get away.
3. Try feeding the kid the food you brought with you. The kid hates everything. And doesn't know why you brought them to this fucked up place with lots of kitsch on the wall and other people talking and drinking from salted glasses.
4. Get water. The kid knocks over the water glass before you can leap to move it out of the kid's way.
5. Order $8 worth of food for the kid. They eat none of it.
6. Your food comes. You ask for a bill. You walk around with the kid for five minutes while the wife eats as fast as humanly possible. "Look, kid! This is where they make the tortillas! You want a free ball of dough? It's like Play Doh! Here, squeeze it! Isn't that fun? No? Why are you crying? SHIT." You hand the kid to your wife, and take as much time to eat as you possibly can until you get the GLARE from her that tells you your moment of eating in peace is fucking OVER.
7. Leave. Total time at restaurant: 13 minutes.
That's dinner out with a kid. As long as the kid is awake, everything is this way. This is why I have no issue with the NFL moving their start times for playoff games later and later. If that shit is on during the afternoon, you're fucking ruined. Even if I had a DVR (and I don't, so go fuck your aunt if you do), it would still drive me insane to put off watching a game until nightfall when I know the shit is unfolding RIGHT NOW, AS WE SPEAK. I'd fucking die. So, instead, I have to spend all week building up brownie points to watch them games, only to get the GLARE one hour into the game as the kids are going out of their goddamn minds and I'm the lazy prick sitting there watching TV.
I look into my future, and I see a Golden Age of Unfettered Football Watching. I see my kids with their own laptops, sequestered in their rooms, trading emails with likely sexual predators while I enjoy my games in peace. Nice. Or better yet, maybe one of them will cotton to the game and join me. That would be cool. I mean, if they don't, whatever. That's fine, too. Just so long as they take care to not interrupt the relationship between the TV and I. I can't wait for that day to arrive. I love the NFL playoffs. But I can't wait to watch the playoffs ten or twenty years from now. Alone and drunk. That will be fantastic.
Are you childless? In college? Unmarried? Savor these playoffs, people. Enjoy being able to watch the games in full, without any type of loved one distracting you. Appreciate what you have. Cherish the relationship you have with your TV. Spend the time now to get to know one another. To connect on a deeper level. Because, at some point, the kids will come between you two. And you'll find yourself in the midst of a one or two-decade stretch of distracted football viewing. Of distracted everything. So tragic.
The Games
All games in the Jamboroo are evaluated for sheer watchability on a scale of 1 to 5 Throwgasms. And, like every year, we switch to PICKING the games. Because why the fuck not.
Five Throwgasms
Cowboys 28, Eagles 20: Teams with a chance to sweep another team 3-0 in a single season are 12-7. Except the Cowboys are 0-2 when offered such an opportunity, including as recently as 2007. WHAT'S IT ALL MEAN? Fuck if I know. Cowboys win.
Cardinals 39, Packers 30: No way in hell I pick against the Cardinals when there's always a chance that Kurt Warner will slaughter a calf for God's glory and be transformed, once more, into '99 Warner, setting the fucking Earth aflame for four weeks straight. I don't give a shit if Boldin or Rodgers-Cromartie aren't playing. If '99 Warner materializes on the field Sunday, Green Bay has no fucking chance. '99 Warner can get off atomically precise passes forty yards downfield with seven defenders hanging off of his dick. He can ejaculate through a Froot Loop and not hit the sides of it. He can also turn water into Booker's. There's nothing else like it. I swear, I've never seen a QB play better than when '99 Warner strikes. Ever. Not Brady. Not Manning. No one. He's unstoppable when he's feeling that shit.
Four Throwgasms
Patriots 35, Ravens 27: I don't like teams that can't defend the pass going up against Randy Moss. And the return of Fred Taylor is annoyingly well-timed for New England. Shit, I picked all four home teams this weekend. I'm a HUGE pussy.
In other Boston smarty-pants news, the Sports Fella is most displeased with not getting proper credit for breaking Tom Brady's rib injury. Welcome to Jay Glazer's world, Billy Pageviews. The millions ESPN will throw at you to re-up this year will be there to soothe your troubled soul.
An appendix to the top of this week's Jamboroo: I take great care to amass as much good will with my wife as I possibly can before the NFL season comes around. But let me tell you husbands out there: it's never enough. I've gotten into those situations with the Mrs. where I try and one-up her in terms of who does the most shit as a parent. You can never win this battle with a lady. Ever.