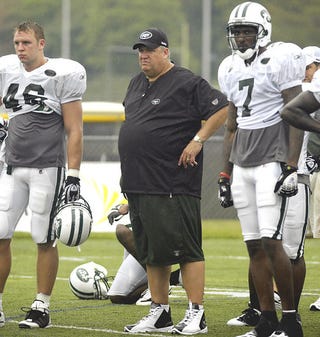 Sad news out of New York this morning; an era is over. Rex Ryan had lap-band surgery.
The Daily News broke this one in the middle of the night, and proudly slapped an "EXCLUSIVE" banner on it. And why not? This is big news. Ryan's gut has made more headlines in the city than Lindsay Lohan over the past year. It was a shining beacon of adipose tissue, tell Jets fans not to worry, everything was going to be all right.
And now, it's leaving us. The man who consumed 7,000 calories a day will soon be full after just a few bites. In a matter of months, 340-pound Ryan will shrivel to a shadow of his former self; like John Daly, his head will appear a little too big, his clothes won't fit, and his jolliness level will plummet.