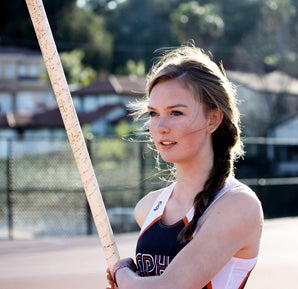 South Pasadena High pole vaulter Robin Laird thought she won a league championship last month when her final vault clinched the meet. Then the opposing coach helpfully pointed out that she was wearing a string around her wrist. Clutch!
Track rules clearly state that "Jewelry shall not be worn by contestants" and I guess a braided friendship bracelet is technically jewelry. (It's also technically a rope!) So Laird was disqualified from the vault—the final event of the match—and as a result, rival Monrovia High School won the Rio Hondo League title. Fair? Well, at least one coach thinks so!
"This is my 30th year coaching track," [Monrovia head coach] Mike Knowles said a few days later. "I know a lot of rules and regulations."

"[I had] a sinking feeling for her. I didn't want to have to do it. But it's a real rule — it's in the book — not something I made up. About 10 years ago, I had a girl who wore an earring in the 4x400 relay and it ended up costing us a CIF title. I feel bad for what happened, but I guarantee you she'll never wear jewelry during a track meet again."

"It's unfortunate, that's all I can say," Knowles said. "It's unfortunate for the young lady. But you've got to teach the kids that rules are rules."
Ok, listen up, Mike Knowles. If you want to be the kind of hyper-competitive tight-ass who wins games on technicalities and punishes teenage girls for not reading rule books as closely as you do, then go right ahead. Be that dick. But at least own it. Don't act like you're doing Robin Laird some kind of favor that hurts you as much as it does her.