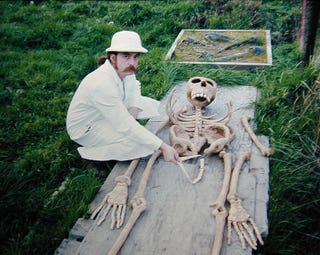 Time for your Tuesday edition of the Deadspin Funbag. Find more of Drew's stuff at KSK or on Twitter. Today, we're covering Robert Evans, mouthwash, note taking, pain, jerseys, strip clubs, and more.
Sean:
Grizzly bear vs. Bigfoot (assuming he's real, which of course we know is true): Who you got? Gotta go with the Bigfoot right?
Yeah, you have to go with Aunt Bunny. Because I assume the Bigfoot has at least gorilla strength, which has to be right up there with bear strength. So Bigfoot would have equal strength, plus he'd have something closer to a human brain than the grizz. So he could outwit the bear AND outfight him. Also, Bigfoot has survived out in the wild for decades now. He's had to encounter a few angry bears along the way, and summarily dispatched them with his very big and furry paws. He may have even scalped the bears, just to let them know he means business.
Matt:
When you use mouthwash, do you ever rinse by violently shaking your head back and forth as if you're rabid with the foamy afterwash? Seems like the most possible fun you can have with mouthwash.
I concur. I like a strong gargle. I like to see if I can tilt my head back and get the bubbles to overflow out of my mouth. LISTERINE BUKKAKE FOR ALL!
Matt's letter also reminded me of one of the great simple pleasures of life: the toothpaste loogie. When I brush my teeth, I like to build up a nice lather of toothpaste foam and spit in my mouth. Once I'm finished, I then have this enormous wad of fluid in my mouth that I can spit out virtually anywhere I please. It's a bonus loogie, all for me!
I never spit out my toothpaste loogie into the sink. I like to step over to the toilet, open the lid, and let the loogie drop down into the bowl. Makes a louder splash, you see. Very gratifying. Then I pee on the toothpaste loogie. I live a wild and untamed life, I tell you. This simple pleasure gets a bit dicey when I decide to brush my teeth while shitting. I'll finish brushing, but I'll still be mid-shit. So I'll lean over and try and get the toothpaste loogie into the sink without getting up. Because I am retarded, I'll often miss the sink and nail the shower door or the floor with the loogie. And man, that is a buzzkill. Never be careless with a solid toothpaste loogie.
Anyway, mouthwash is great because you can use a cup of it (I always use far more mouthwash than is necessary), and then spit it out freely. Ever spit your mouthwash into the toilet? JOY.
Matt:
Today, instead of the regular 8.5 x 11" sheet of paper, one of my professors handed out an article printed on legal paper, 8.5 x 14." I had never held such a thing before, and let me tell you, it was magnificent. I felt like I was holding the goddamned Declaration of Independence. Why isn't everything printed on legal paper?
See, I don't concur with you on that. I fucking HATED legal pads when I went to school and shit. Because the legal pad is longer, and thus it takes longer to fill an entire page with notes. When I was in college, I really got my rocks off on filling a whole page with notes. LOOK AT ALL THAT LEARNING I DID. I was a horrible note taker. I could never read what I wrote, and nothing I jotted down was coherent in the slightest. If the professor spent an hour lecturing us about how hard D-Day was to plan due to weather, I'd write something like RAIN as an entire note and leave it like that. Idiotic. Half my notebook pages were just doodles of the Metallica logo, or my name using the Metallica font. But I still liked the idea of taking pages of notes over the course of a semester to make myself feel way smart. Filling up a fucking legal pad makes it take that much longer. (Not that it matters anymore, with what technology and computers and SAN DIMAS HIGH SCHOOL FOOTBALL RULES!)
I hated good note-takers in school. Those chicks with the fantastic handwriting that may as well be a font. And they could transcribe what the teacher was saying in fucking REAL TIME. I'd fall behind three seconds into the class. Then they'd have these stacks of color-coded notes and shit. Fucking Tracy Flicks. LITTLE TEACHER'S PET, AREN'T WE?!
Anyway, I'm so used to 8 1/2" x 11" paper that legal paper fucks me up. It feels unnatural. I worked at a job once where all the layouts were printed on 11" x 17" paper, and that's even worse. So large. So ungainly. So flappy. I'll take my paper standard size, thank you very much.
Matt (again):
You know how in movies and on TV there's always some cruel twist of fate that ends up screwing someone over? And how it's always just a matter of one of the other characters not noticing their plight in time? If only they had looked out the window! Or turned their music down, or put the phone back on the hook, horrible horrible things could have been avoided. Well now, I find myself constantly doing things to prevent such disasters. I double check my email before I shut down my computer, check my phone as I am leaving / entering my room, all on the off chance someone is trying to reach me and their life / vast sums of money depend on it. That's not all though, at least once a day, the simplest action, stopping at a 7-11, taking a certain route to class, leaving my room unlocked, suddenly becomes "little did he know that that one simple choice would LEAD TO CERTAIN DEATH!"
That whole thing gets even worse when you have kids. Because I've seen countless TV shows and movies where a seemingly innocuous action by a parent leads to a child's death/rape/dismemberment. If you see mama put the pot of boiling Crisco on the stove and then take a long phone call, you KNOW she's gonna forget about that oil, and that little baby Mikey is gonna waltz into the kitchen and grab the handle of the pot without knowing what's inside and BOOM FRIED FUCKING BABY.
Anyway, you picture that kind of thing happening all the time when you have kids. When my younger kid was around seven months old or so, I carelessly forgot to close the basement door. And I wasn't watching him when he saw the open door, crawled to it, and then fell down the stairs. All I heard was THUDDY THUD THUD and I was like OH FUCKING SHIT I KILLED THE BABY!
He lived, but I was fucking traumatized. All I can is replay the moment and picture his neck snapping on the bottom stair. So I have to double-check the basement door seventy fucking times every day. And even then, I'm still horrified I've done something seemingly harmless that will end up brutally killing at least one child. I let the kid walk around with his toothbrush the other day. Well, what if he tripped and fell and the toothbrush hit the ground and drove through the back of his skull? WHAT THEN?! What if I left the window open and he decided to pull an Connor Clapton? GAH!!!
Goddamn tragedies. They'll freak you out if you have a kid.
Brendan:
Do you ever drink milk out of the fridge (especially after working out but not exclusively) and as you are chugging the milk you pretend you're growing into the Incredible Hulk?
I'm more of a Popeye guy in that regard.
It's always fun if you haven't eaten in a long time (or if you're eating breakfast with a hangover), and you start chowing down on your meal and you're saying to yourself YES, YES… ENERGY GROWING… STRENGTH RETURNING… SOON I SHALL BE GOOD AS NEW! I always enjoy that feeling when I'm eating hash browns at noon on a Sunday.
Mac:
My 9-month-old son has this Baby Einstein turtle toy that plays a song when you squeeze it. Over the last few months, the batteries have been slowly deteriorating, to the point where it sounded like some sad circus march. We replaced the batteries, only to discover that the actual song is some ridiculously chipper, 150bpm sugar fit. I didn't realize how attached I had grown to the "dying battery" version. Have you found yourself growing inexplicably attached to the songs & melodies your kids' toys play?
There's a Laurie Berkner song I genuinely enjoy, but I will shoot myself before I voluntarily listen to it on my own. My kid also has a panda bear toy that plays a couple songs when you pull it, and one of the songs is this piano riff that I think is fucking BADASS. I'll pull the thing three times to get to that melody. Then I'll pull it three more times. Sometimes, I picture myself being Rick Rubin and saying to Jay-Z, "What about this?" Then I'll play the panda bear piano riff for Jay-Z and he'll be like THAT IS FUCKING OFF THE HOOK. YOU'RE CRAZY FOR THIS ONE, RICK! I am so hopelessly white like that.
Goose:
Don't you hate when you visualize doing something really painful to yourself yet you can't stop thinking about doing it? I have spent the last 5 minutes continuously giving my penis hole paper cuts. It hurts.
Boy, I hate it when that happens. But you're right. I can't be around dangerous objects without immediately thinking of new and horrible ways to purposely injure myself with them. Look at that table saw. Man, it would suck to just lay right on top of it and have it rip open my stomach and puree my inner organs. And I can't be around any paper cutter without immediately thinking about using it to chop off one of my own fingers. Man, that thing looks fucking sharp. I bet it could go through my pinkie like THAT. Just one swift guillotining. Then I'd have to go the emergency room and everything. That would SUCK.
Tom:
This urinal was at a gentleman's club in St. Pete. It was also the single greatest piss of my life.
I bet it was.
JDL:
What is your stance on ketchup storage? I have always had it in the fridge, but the wife is adamant about keeping it in the pantry.
I almost always follow the directions on the bottle to refrigerate after opening if it says so. The only time I don't follow this rule is with Frank's Red Hot sauce. I have no clue why. I think I'm more apt to refrigerate thick sauces, like ketchup and mustard. Less so with liquids like soy sauce. I'm sure there's a fun case of e coli awaiting me and my Frank's-drenched eggs one morning.
Mollie:
Do guys prefer blow jobs over sex? Sometimes when my boyfriend and I are about to have sex, I'll give him head for a few minutes before I climb on top of him and I hope he's not thinking, "Damn, I wish she would just finish with her mouth!" Neither his mood nor actions suggest he's thinking this, but I always wonder.
I think Mollie should obviously test this question out on multiple men to accumulate the necessary data sample to come to a logical conclusion. Why not start on our commenters? Gourmet Spud could use some action.
I think most men enjoy BJ's because they don't have to do anything. But sometimes, when you're a guy, you don't want to sit back and be passive. You want to saddle up and get to work. You want to fucking ATTACK. And so I think your boyfriend probably is happy for the starter BJ, but also happy to transition to the intercourse. But no two men are alike in this regard. For example, I often choose to eschew blowjobs AND sex for a good ribeye.
Sauce:
Why do socks sometimes come in re-sealable packaging?
So they taste fresher. Duh.
HALFTIME!
Tim:
I'm 28, and went to the doctor for my first physical since I was 23. Since I was in college I told people I was 6'0". The doctor measured me and told me that I was 6'1". I looked and he was right. Where did this extra inch come from?! Have I been shorting myself an inch this whole time? I want my driver's license corrected! I spent the next couple days walking around with perfect posture looking at all the tiny people around me who must cower at my giant height.
That's a shocking discovery. Usually, doctors offices serve to take away precious information that boosts your self-esteem. They'll tell you you're shorter than you tell people you are, and that you're fatter than you tell people you are. They do this ON PURPOSE. They recalibrate all their scales and measures to purposely give you false information and give you a shitty image of yourself. That way, Mr. Arrogant Doctor Cock can walk in and be all high and mighty with you, and you'll be too insecure and shell shocked by your "real" weight to stand up to him and tell him he is a FUCK for making you wait 45 minutes and that he can burn in fucking hell.
What I'm basically saying is that doctors are pricks.
Anyway, I suggest you use that new height to your advantage. Go to the gym immediately and see if you can touch rim. Tell your mom your clothes don't fit anymore because you have such a long torso. Open up a rock musical called HEDWIG AND THE ACTUALLY QUITE PLEASANT INCH. The world is your oyster, good sir.
G:
Have you ever seen fans who go to games wearing a team jersey or team merchandise of a team that's not even involved in THAT game? Whenever I go to a basketball or hockey game guaranteed I'll see fans wearing merchandise that is neither of the two teams involved…does this make any sense? Like if you're going to watch the Bulls and Cavs play why would you wear a Kobe jersey? Or if you went to a Leafs/Canadiens game why would you wear a Crosby jersey? Who are these people?
I assume they're German.
Otherwise, I assume these are people who want to make it very clear that they are NOT a fan of either team in the arena this evening. Because God forbid someone see you walking around in the Bills home stadium and think you're actually a Bills fan, or something. THAT WOULD BE CHEATING ON YOUR FAVORITE TEAM! GOTTA SHOW YOUR FUCKING PRIDE! It's a stupid practice, and people who do it should be punched in the dick.
I'll tell you this. If I'm a neutral observer at a sporting event, I will almost always, by default, vigorously root for the home team. Like, if I go to a Wizards game, I'll always be a fair weather fan and cheer for the Wizards to win. I'm not a Wizards fan. But I'm there, so I may as well take a rooting interest. If the Wizards are playing Orlando, I'm not gonna rock a T-Wolves jersey to the Verizon Center and boo BOTH teams. That's fucking dumb. No one cares about how much you love your team that isn't involved in this particular contest.
Rich:
What's the saddest song you can imagine being played at a strip club? Not just a sad song in general (that's too easy), but a song that would just make you feel sorry for the dancers. Like if the DJ were to play it, you'd just want to put some clothes on the nearest stripper and tell her it was ok. I once heard "Faithfully" by Journey in the middle of the day at a Deja Vu, and could hear the poles creaking and stuff and it just made me fell awful. That's where the whole idea got started. It became a rolling conversation throughout my entire bachelor party weekend, and we came up with:

-Tears in Heaven
-Luka
Well, I'm the guy who has been subjected to numerous inappropriate strip club songs, including "Ghostbusters" and "Black Sabbath" by Black Sabbath (terrifying if you're trying to maintain an erection). Those songs aren't necessarily sad, just wildly out of place. I mean, imagine a girl stripping to fucking "Bad Day." You'd kill yourself, right? I would. Like Rich said, when a song is quiet enough for you to hear the poles creaking, then the illusion of "wild times at the Vu!" is crushed and you're forced to confront the sad reality that you are stuck in a filthy building populated by pretty gals whose dreams have been crushed and whose fathers all died when they were six. You NEVER want to acknowledge that when you're at a strip club. It's awful.