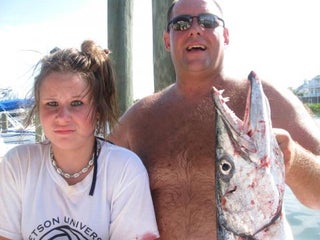 S
This happy fellow is Rob Parker, with a 42-inch long barracuda that he caught. This traumatized girl is his 14-year-old daughter, who was the bait. He made sure to get this photo before they went to the hospital. (Bloody, NSFW-ish photo inside.)

Koral Wira was along for the ride when her parents and a couple of friends went fishing off of Venice, Fla. About 4 miles off shore, a barracuda leaped from the water and clamped onto Wira's arm.
The fish dropped off her arm, and her father stabbed it with a filet knife. But the damage was done: Wira needed 51 stitches.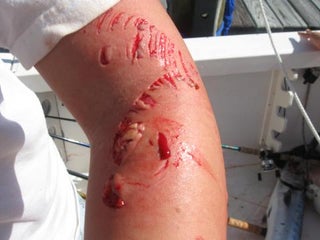 S
Of the victory photo, Wira "said she wasn't in pain at the moment, but she was still creeped out by the fish." I'd be more creeped out by her father's triumphant expression.
Leaping Barracuda Gashes Teenage Girl's Arm [Field & Stream]