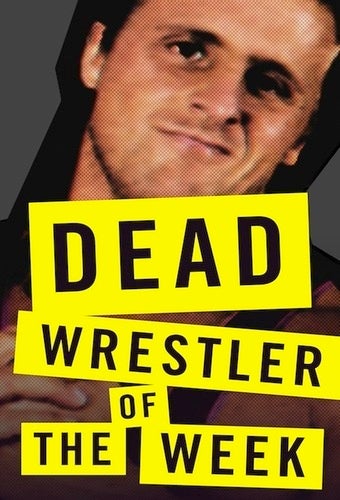 Every week or so, the Masked Man, Deadspin's pro wrestling correspondent, honors the sport's fallen and examines their legacies — famous and obscure alike. Today: Owen Hart, who fell to his death in 1999 during a WWE pay-per-view event.
On May 23, 1999, at the WWE's Over the Edge pay-per-view event, Owen Hart died in a wrestling ring. He was playing a character called the Blue Blazer, a farcical masked superhero, though it can more accurately be stated that Owen Hart — who had long exploited wrestling's interplay between reality and unreality — was portraying "Owen Hart" masquerading as the Blue Blazer. On this night, Owen was being lowered to the ring in a harness to approximate flight. The harness malfunctioned; a clasp gave way, and he fell 70 feet onto the ring ropes, severing his aorta and killing him almost instantly. At that moment, the difference between Owen, "Owen," and the Blue Blazer was rendered tragically immaterial. Wrestling had lost one of its greats.
In the modern world of pro wrestling, even when you're ostensibly playing yourself, you're really playing a character. On screen, "Owen" always denied that he and the Blazer were the same person, even though it was comically obvious that they were one and the same. (His buddy Jeff Jarrett wrestled in the Blazer garb while Owen sat by on commentary to "prove" they were separate, and Koko B. Ware even took a turn under the blue mask for a similar gag; the ruse was more than obvious, and the audience was happily in on the joke.) Owen had played the Blue Blazer character earnestly early in his career, mostly in Japan and Mexico, where such masked personas are customary. Such a character from his past was an ideal vessel for what would be, in its 1999 iteration, an anti-modern crusade. The Blue Blazer was at once a masked alter-ego and a manifestation of Owen's superego — the Blue Blazer stood opposed to the excesses of the WWE's Attitude Era, the crass sex- and violence-obsessed style that took over WWE programming in the late '90s. Owen the person had long been quietly uncomfortable with the direction the company was heading — he notably refused to work a storyline that had him in an affair with Jarret's on-screen companion, Debra McMichael, for fear that his children would watch and believe it was true — and now Owen the character was exorcising the demons of his own discomfort and deconstructing such depravities within the context of Attitude Era programming. It was a winning ploy; many wrestlers were at that point playing outsize versions of themselves to great success, and Owen joining the fray as the movement's antihero was borderline-inspired storytelling. That he was playing it for comic effect didn't necessarily undermine its agenda (championship-level feuds in those days were often marked by dick jokes), and neither did the audience's heckling subjugate the message (Owen was playing the heel, a pariah railing about integrity and moral rectitude, so the jeers were part of the routine; and besides, the good guy-bad guy continuum had been turned on its head by the ascent of "Stone Cold" Steve Austin and other ideological "tweeners"). Owen's popularity was unequivocal. When he ran to the ring with his arms outstretched, like a kid imitating his favorite cartoon character. When he was lowered from the rafters, arms flailing, the crowd laughed in unison.
It would have been a conceivable punchline to send the beleaguered superhero — or a mannequin dressed to look like him — crashing down from the rafters into the ring. Such attention-grabbing stunts were common in those days. Wrestling is based on the premise of fake injury, of course, but pro wrestling in the modern age has been intent on pushing the boundaries in such a way as to simultaneously shock viewers and yet underline the ridiculousness of it all. It was clear from the crowd reaction that when Owen fell, at least briefly, they thought the fall was part of the act.
And why shouldn't they? The boundary between real life and fake life was irreparably blurred by that point thanks to any number of storylines, but the Blue Blazer angle — Real Owen playing Fake Owen playing a masked avenger fighting for Real Owen's honor — was surely the pinnacle of such multilayered unrealism.
Owen's storyline wasn't always pitched at such a meta level. He was born into wrestling, as the youngest child in the legendary Hart family, son of Stu Hart and brother to Bret (and five other brothers who would wrestle to less acclaim), and he was by many accounts the most naturally gifted grappler of the bunch. But despite his best efforts to find a career outside the ring — supposedly to keep his new family away from the wrestler's life that he grew up with — he soon decided that wrestling was his only lucrative path. He started off as a golden boy in his father's Canadian promotion, Stampede Wrestling. Brother Bret was then entrenched in the WWF as half of the Hart Foundation (along with Jim "the Anvil" Neidhart); Bret was a star, but certainly nobody would have predicted his future as a longterm heavyweight champion, as he was several inches too short and several degrees too plain next to the likes of Hulk Hogan or Randy Savage. And Owen was, if anything, smaller and less flamboyant than his brother — he was unaffected, Real Owen playing himself — and despite his popularity in Stampede, he wasn't offered a job with one of the major American shops. He wrestled through Japan and Mexico, where his size wasn't a deterrent and his high-flying style was more acceptable. His success there would eventually lead to a job with the WWF, but rather than capitalize on his relationship with Bret, they put him in a mask and called him the Blue Angel. (That beatific moniker was soon corrupted into "The Blue Blazer.") There was very little affectation; this was Real Owen with a mask. He wowed the more attentive fans with his seemingly revolutionary mix of aerial maneuvers and old-school grappling, but he was a gimmick without a backstory, form without substance, and the audience at large was unsure what to make of him.
After only a brief run, he went back to the global circuit — Stampede, Mexico, and a cup of coffee in WCW. He landed back in the WWF, forming the New Foundation with Neidhart after Bret embarked upon his singles career, and later teamed up with the unspectacular Koko B. Ware to form the team High Energy. Neither team was much of a success — the neon parachute pants probably had something to do with that.
After High Energy disbanded, Owen aligned himself with Bret in a beef against Jerry "the King" Lawler, and from there, through various feuds, the brothers' relationship took center stage. Over the ensuing months, their partnership evolved into a competition and then into an all-out rivalry, with Owen playing the angsty, underappreciated second banana — Owen finally coming into his own by playing "Owen." The sibling rivalry was Jacob and Esau shined up with baby oil. It was presumably based to some degree on real life; the angle began when Real Owen asked Real Bret why he never got the chance to fight against his brother and share in the main event spotlight. That backstage conversation evolved into a monthslong on-screen campaign.
The matches they shared were always the best of the night — and among the best of the era, to be sure — but the arch familial interplay was at the forefront.
Owen had come into his own as a personality as well. Real Owen was a mild-mannered and high-spirited jokester (his backstage "ribs" are the stuff of legend), but Fake Owen was a sarcastic, silver-tongued jerk. When he sat in at the commentary table, he was a droll instigator of virtuoso status, especially when contrasted with Bret and the rest of the wooden Hart clan. The Harts were so soaked in tradition that they were nearly inert; Owen seemed to be the only Hart who was in on the joke — the joy — that is pro wrestling.
A number of the other Hart family members, including brother-in-law Davey Boy Smith and the family matriarch Helen Hart, floated in and out of the storylines; the latter tearfully threw in the towel for her son Bret in a match against Bob Backlund upon Owen's maniacal urging.
When Bret thereafter defeated Owen to functionally put their rivalry to an end, Owen teamed with Yokozuna, and the duo held the tag team championships for five months. He then joined forces with Davey Boy Smith and the two had an uneasy alliance —- which mirrored to some degree Owen's partnership-cum-rivalry with Bret —- for a number of months. Both men subsequently joined up with Bret (and Neidhart and Brian Pillman) to form a new Hart Foundation. This iteration was a nationalist outfit that proclaimed Canadian superiority and virtue in opposition to the sleazily American WWE, much to the dismay of the audience. (Except, of course, in Canada, where they were hailed as returning conquerors.) The most notorious incident in this period was Owen nearly ending the career of Steve Austin. Owen's "piledriver" — wherein one man puts the other's head between his thighs and then drops it forcefully into the mat — actually accomplished what the move normally only insinuated, and Austin was temporarily paralyzed in the ring. The match ended clumsily, with a groggy and weak Austin unimpressively pinning Owen so as to keep with the planned outcome. Fans could plainly see that the finish was forced, but — tellingly — most chose to suspend disbelief. It suggested the distance from reality at which the fanbase was willing to situate itself, and as such it was a painful foreshadowing of Owen's own demise.