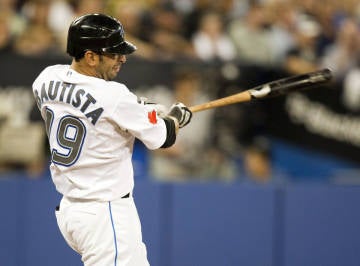 Now that Bautista's reached the 40-homer mark in August, bettering his previous season high by 24, it's inevitable that the PED rumblings would begin. But it's from unexpected sources: the two Toronto papers, doing a curious sort of "journalism."
It started on Sunday, when The Star's Damien Cox took to his blog on the paper's web site to raise the issue. And the post's title tells you everything you need to know:
"Gotta At Least Ask the Question"
Oh, that is just the worst. "Here's this thing I'm thinking, and I can't prove it, and can get in trouble for even suggesting it, so I'm going to couch it in the guise of 'shouldn't we at least be wondering about this guy?'"
When it comes to Jose Bautista, how is it exactly that at the age of 29 he's suddenly become the most dangerous power hitter in baseball?

Chance? Healthy living? Diet? New contact lenses? Comfortable batting gloves?

Anyone reading about the Roger Clemens perjury case this week, which of course brings up all of baseball's tawdry steroid history, should at least be willing to wonder about Bautista's sudden transformation into the dinger king.

...

Really? Quite a story, huh?

Makes one remember Brady Anderson, who went from 16 homers to 50 and then back to 18 right smack dab in the middle of baseball's steroid problem.

Things happen in baseball, I guess.
For all the shit Jerod Morris took for daring to question Raul Ibanez's aberration of a season (Ibanez has reverted to form, by the way), Cox does the exact same thing.