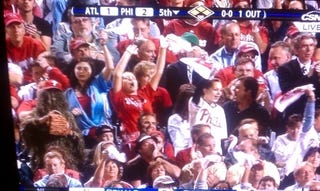 Because no one reads the newspaper, and SportsCenter's anchors are too perky for this early in the morning, Deadspin combs the best of the broadsheets and internets to bring you everything you need to know to start your day.
• The Saints won a rather sloppy/rather exciting game, proving Frank Gore wrong. Meanwhile, Reggie Bush apparently decided to give up his fibula, too.
• A Browns player is "fired up" after getting his junk grabbed by a Chiefs player Sunday. I don't get this whole "campdick" thing.