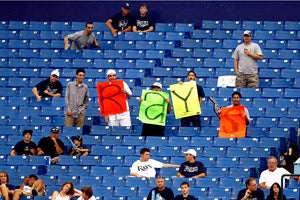 In sports, everyone is a winner-some people just win better than others. Like Rays fans, who get to read this morning about how they're pathetic, just because they didn't show up to a meaningless, late-September, Monday night game against a last-place team.
And then, there were 12,446. That's precisely, give or take a few dozen charity comps, how many showed up to watch Tampa Bay get three-hit by the Orioles. But if you've looked around, that's apparently also exactly how many true Rays fans there are in the world. Because when no one was looking, the media turned Monday's gate into a plebiscite on baseball's sustainability in Florida.
Thanks to a million things going just the way they did over the past six months, Monday happened to be an opportunity for the Rays to clinch at least a playoff spot. Note that this wasn't clear until late Sunday night: we're really blasting fans for not heading to last night's game on the spur of the moment, because they should have dropped their plans and shown up in droves to celebrate a worst-case scenario of a Wild Card.
David Price said it was embarrassing. Evan Longoria said it was embarrassing. And now everyone's wringing their hands and rending their garments and crying "O what shall we do with this state?"
Relax. One game, up against a killer Monday Night Football matchup, is not a referendum on contraction, nor new stadium construction. And there's no magic bullet.
Fans don't go to games because the St. Pete stadium is so far out of the way? The Rangers, in Arlington, are doing all right.
Fans don't go because it's a crappy old stadium? The Nationals have a shiny new ballpark, and they can't draw even with 2-for-1 ticket deals.