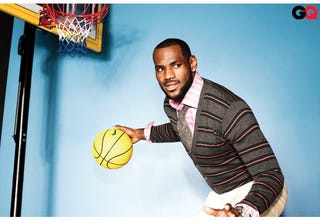 LeBron James and Maverick Carter offered that as a partial explanation for the negative publicity he's gotten this summer. I don't think anyone's gone the race route on this yet (besides Jesse Jackson), but what do you know? Here we are.
Yesterday on CNN's Rick's List, Soledad O'Brien had a piece on James and Carter. From the transcript:
O'BRIEN (voice-over): But those deals were overshadowed by this summer's decision and negative headlines which seemed to tarnish LeBron James, the athlete, and the brand.

CARTER: It's just about control and not doing it the way it's always been done or not looking the way that it always looks.

O'BRIEN (on camera): Do you think there's a role that race plays in this.

JAMES: I think so at times. It's always, you know, a race factor.

CARTER: It definitely played a role in some of the stuff coming out of the media, things that were written, for sure.
Someone activate the Whitlock-Signal!
It'd be easy enough to dismiss this by pointing you towards one of the more succinct criticisms of James, and daring you to find any racial undertones. But it's probably instructive to deal with this now, because it's inevitable. In America, money and power and sports can't help but be intertwined with race, going back to Jack Johnson and earlier. Pretending it doesn't exist at all, even in specific cases where it might not, doesn't help anybody.