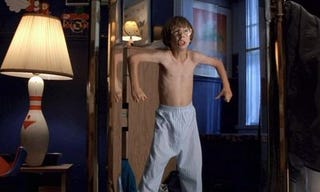 The Sidwell Friends football team has been outscored 373-43 this season. When Washington City Paper columnist Dave McKenna pointed that out, he learned that the school's tony pansies are way feistier on the Internet than they are on the field.
Sidwell Friends (the private school attended by Presidential and Congressional offspring since the first Roosevelt administration) was once a football powerhouse, winning six consecutive league titles from 2000-2005. Now the program is in worse shambles than Nancy Pelosi's legacy.
Sidwell went into Saturday's game against Saint James, a boarding school outside Hagerstown, having lost the two previous weeks by a combined score of 95-0, and gave up a touchdown on Saint James' first play from scrimmage. Coach John Simon tried to fire up his team by screaming "You gotta play football, not lacrosse!" at them. That didn't work. Sidwell went down 38-0, thereby qualifying for slaughter-rule protections, when there were still about eight minutes left in the first half.

The final score was 51-12.
Injuries have decimated the team — 10 players were down after the first two games, and "school officials ordered the forfeit of a game with Baltimore Lutheran, fearing the lack of upperclassmen could create dangerous mismatches against more mature opponents."
And with the spectre of concussions ever-present, the cycle continues. One Twitter user wrote that "my brother, a frmr Sidwell f'ball star (there was such a thing!), won't let his son play b/c of head trauma stuff. He can't be the only one." Malcolm Gladwell may be on to something after all.