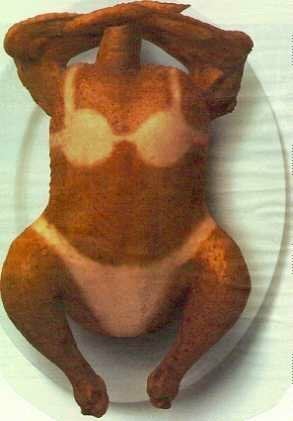 Drew Magary's Thursday Afternoon NFL Dick Joke Jamboroo runs every Thursday during the NFL season. Find more of his stuff at his Twitter feed.
Happy Thanksgiving, everyone! I can't believe it's Thanksgiving already. Wait. Check that. I can't believe I'm one of those assholes who says he can't believe it's Thanksgiving already. But I am. I do this all the time now. The calendar will flip, and my wife will say to me, "I can't believe it's December!" And I'll be like, I KNOW! Who knew that time would pass and each successive day would lead you to the next? SHOCKING. I'll even say a month or season has passed by quickly when it hasn't really seemed to pass by quickly at all. Like this past summer. This past summer was fucking endless, yet September rolled around and I was still like, WOW! SEPTEMBER IS ALREADY HERE! THAT'S KRAYZEE!
This is because I have nothing else to say. I am a crushing bore.
I am fucking jazzed for today. I've been in the Thanksgiving spirit all month. I told the wife this week that I would be thinking about food every day until Thanksgiving and it was absolutely true. FOOD FOOD FUCKING FOOD. I can't even talk, I'm so wrapped up in what I'm gonna shovel into my fucking facehole. So join me, won't you? Let's carve this bitch up.
NOW DAN V, MAKE WITH THE SPECIAL THANKSGIVING THROWGASMS.
The Games
All games in the Jamboroo are evaluated for sheer watchability on a scale of 1 to 5 Throwgasms.


Five Throwgasms
Bucs at Ravens: I'll tell you something else that blows my skull about Thanksgiving, and that is that we still teach it the same way in school. Even though we KNOW it's complete bullshit. The PC movement has made no traction in elementary education. I have a kid in preschool, and they still teach her all that crap about the Pilgrims and Squanto holding hands and planting fish in the ground and smoking a peace pipe, which is just a blatant LIE. It's not even close to being the truth. They still teach kids that Columbus "discovered" America, and virtually every other story that was ruined for me by the time I turned sixteen.
And I have no problem with them doing this. Because the truth is awful and horrible and there's no way you can present the truth to children without terrifying them. "Well kids, Columbus and his gang of sailors spent months at sea raping and lashing one another, then landed in the West Indies, raped every native woman in sight, and conquered the locals by stabbing them and passing onto them incurable diseases, primarily syphilis. Oh, and the Vikings discovered America first, unless you count the hundreds of thousands of non-white people who migrated there tens of thousands of years ago. ENJOY!" No kid is gonna want to hear that. Much better to tell them outright falsehoods, then correct it ten years down the line. There's no rush to teach our children actual FACTS. That would be silly, because facts are painful.
Chargers at Colts: I don't know if you caught Peyton Manning's post-game press conference last week, but that guy rocks the cheapest suits I've ever seen. Isn't Peyton married? His wife should be throwing out those $4 Haggar reversible dining jackets and giving her poor hubby a real wardrobe. He looks like he's about to go to Dave & Buster's in that suit. It had tiny shoulders, like Tony Boselli's old shoulder pads. He looked like he was eight years old, and Eli already has a trademark on that look.
After seeing Peyton get picked against New England, I wonder if there will come a time (say, five years from now), when Manning will devolve into an aging passer who still thinks his arm isn't shot. Obviously, Favre has been like this for over a decade now. Manning is still one of the best QBs in the universe. But once he finally goes into decline, I wonder if he'll keep thinking he's top dog and start throwing brutal picks on a weekly basis, instead of just in Super Bowls. That would be kinda fun.
Regarding the Chargers, I drafted Vincent Jackson in my fantasy league this year. I kept him on my bench this whole fucking time. I never once dared to drop him. And now he's ready to play, and I demand my patience and loyalty be rewarded by Jesus with Jackson scoring a zillion points. It has to happen. I TOTALLY FUCKING DESERVE IT.
Packers at Falcons: I've become so distracted by fantasy football to the point where I will watch a game and nothing on the screen will register with me because I've been thinking about fantasy the whole time. "I'm down by ten now, but he has three guys to go and I have four. But one of his guys is a QB. I wonder if that'll average out and prevent me from keeping up." That kind of thought process will go on for hours. So even if my eyes are trained on the screen, it won't matter in the slightest. I'm pretty sure this makes me a terrible fan. But I don't care all that much.
By the way, this has become an annual complaint: Why doesn't Fox also use Stattrax like CBS does? It took them a while just to constantly show other scores. Would it fucking kill them to flash stats the way CBS does? I love staring at that thing. I stare at it so often, I sometimes forget to breathe.


Four Throwgasms
Eagles at Bears: I know a lot of people bitched about that weird Northwestern game they played at Wrigley last week, where the offenses could only face one of the end zones. But I have no issue with this. In fact, I think more college and pro games should be placed in gimmicky, obstruction-laden locales. I'd be much more likely to watch a random Big Ten game if it were to be played on the roof of a hotel in Dubai. That would be fucking sweet, especially if they had giant nets extending out from the side of the building to catch any player whop runs off the edge by accident. Then GNR could play "Don't Cry" at halftime. It would be the tits.
And you don't have to stop there. They could play a game in Central Park. Or in an Iowa cornfield. Or in an abandoned fish-processing plant. Or on a US aircraft carrier. I'd never stop watching any game played on an aircraft carrier. One rogue wave and suddenly NO ONE is open down the field. I'd be hypnotized.


Three Throwgasms
Bills at Steelers: They had Cupcake Pebbles in the grocery store yesterday.
Oh, that is just pure evil. You shouldn't even put milk on them. You should be forced to pour maple syrup on them.
Saints at Cowboys: I get the feeling Dallas could lose their final six games and Jerry Jones would still jack off to himself for trading up for Dez Bryant. MY BOY DEZ IS A FUCKING STAR!
Titans at Texans: I keep waiting for John Feinstein to call Jeff Fisher a racist and demand he be fired. John Feinstein is fucking INSANE.
Jaguars at Giants: A light bulb went out in our house this morning and it scared the shit out of me. Sometimes, you'll turn the light on, and the light bulb will spark up and then go right out. That never ceases to catch me off guard. WHAT THE?! JESUS! THE LIGHT BULB BLEW OUT, EVERYONE! THE FUCKING LIGHT BULB BLEW OUT!


Two Throwgasms
Patriots at Lions: Peep this video of Bill Belichick rocking a fedora in tribute to Paul Brown. It looks exactly like the bowl of soup hat from Caddyshack. Tell me he doesn't look like he'd molest your niece in a heartbeat.
Vikings at Redskins: I thought I'd be ecstatic when Brad Childress got fired. And I guess I was. But the overriding feeling when he got shitcanned on Monday was one of sadness. Not because I liked Chilly. He was fucking awful. It was just the fact that my team wasted another x number of years with a shitty coach and failed yet again. Now they have to start over with another coach (Leslie Frazier seems okay, but what the fuck do we really know?), another QB, and hope this time they get it right. Yet the odds suggest hey won't get it right, and that they'll waste another five years or so before turning around, hiring someone new, and fucking up all over again. Repeat until dead. It's not a pleasant feeling. Maybe the move to London in 2012 will help.
Dolphins at Raiders: Go here if you want the first Thanksgiving Jamboroo, which broke down the holiday in full.