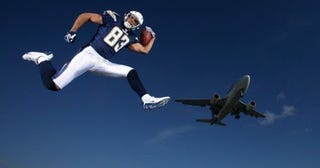 Drew Magary's Thursday Afternoon NFL Dick Joke Jamboroo runs every Thursday during the NFL season. Find more of his stuff at his Twitter feed.
Oh, Vincent Jackson. Oh, how I hate you. HATE you. LOATHE you. DESPISE you with the force of a thousand tornadocanes. YOU FUCKING DICK.
Eleven weeks, Vincent Jackson. I stayed loyal to you for eleven fucking weeks. I drafted you. I gave you a home on my roster. I said mean things about A.J. Smith (who is a fucking ASSHOLE) to support you. I let other players go to keep you on my squad. I encouraged you, nurtured you, waited for the day when you would finally end your holdout, serve your fucking three game in-house suspension (does any GM besides A.J. Smith ever pull that kind of cock move? FUCK AND NO), and return to the field to FUCK SOME SHIT UP. I relished the moment. I rubbed my hands in evil delight at the prospect of my opponents witnessing the firepower of a fully armed and operational Vincent Jackson. You were, like, the fucking Mario Kart TURBO BOOST my piece of shit fantasy team needed. I was gonna hit that button and BOOM! Fucking smoke everyone else.
That was the plan, Vincent Jackson. That was YOUR goddamn role.
And what the fuck do you do on Sunday Night? You take your candy ass out of the game after ONE FUCKING PLAY. ONE. What in the living fuck? You had a calf injury? A goddamn calf injury? DID YOU EVEN STRETCH WHILE YOU WERE AWAY, FUCKTASTER?! You didn't even TRY and come back into the game. You played one stupid play, then instantly Al Michaels was like, "Oh, and Vincent Jackson is done for two weeks." You couldn't even ride a fucking LifeFitness bike to see it if got better? Had a trainer stretch you on a table or something? You just go to street clothes at the drop of a goddamn hat? ASSHOLE! PUSSY! You fucked me! HARD!
No one likes to hear a fantasy football story, but I'm gonna tell you mine anyway, Vincent Jackson, because FUCK YOU. I'm up 10 points on Amy Blair and her fucking group of old maid cats going into Sunday night. I have you and Marmalard. She has the San Diego defense. I don't even bother worrying about losing this game. Then you pussy out, then Marmalard doesn't throw a TD, then the Chargers house two Peypey throws, and suddenly I HAVE BEEN ASSFUCKED BY A CHRISTMAS TREE.
You speckled cunt. You're faking it! I know it! You're totally faking it because you're mad at A.J. Smith and you want him to suffer. Look, I don't blame you. A.J. Smith is a penis. But you need to think of everyone else you hurt by being such a TREMENDOUS GASH. You need to think of the children, Vincent. And I totally qualify as a child because of my mental and emotional deficiencies. It's not just A.J. Smith you're hurting by pulling this shit. YOU HURT MY VERY SOUL. You are a piece of shit and a disgrace to the concept of loyalty. This is the reward I get for having faith you? For giving you a home? Damn you, Vincent Jackson. Damn you to Hell. In fact, damn you to SUPERHELL, which is located right BELOW hell and reserved strictly for the worst people in the universe, like you and Hitler and Elton John. They make you read Slate ALL THE TIME, that's how shitty it is. That's what you deserve, Mr. Achy Calf. You turd. I don't like you.
Fucker.
The Games
All games in the Jamboroo are evaluated for sheer watchability on a scale of 1 to 5 Throwgasms.


Five Throwgasms
Steelers at Ravens: The four best teams in the AFC all play each other in primetime this week. I have nothing catty to say about that. I just think it's awesome.
Jets at Patriots: I hate Ron Jaworski's TV voice. I hate it. I want to punch a mirror when I hear it. He could tell me who killed fucking Jimmy Hoffa and I still wouldn't want to hear it coming out of his goddamn mouth. I don't understand how people can enjoy listening to him do a football game. I don't care that he's informative. His voice is awful. He sounds like an opera singer trying to talk out dialogue. I don't know what the fuck he's trying to accomplish. He has a perfectly nice regular voice. But then a camera goes on and suddenly he's like I AM SPEAKING TO YOU NOW. LISTEN TO ME ENUNCIATE! How do media critics not hear this? How are they able to look past that and say nice things about Jaws? Do they have fucking manure in their ears? I'm at a loss.


Four Throwgasms
Bucs at Falcons: One of the dumbest things about every NFL telecast is when they put up a graphic telling you the analyst's KEYS TO VICTORY SPONSORED BY WINDOWS or whatever the fuck they call it at the time. It's like the worst PowerPoint presentation ever. For example, Troy Aikman's would totally read like this:
BUCS
-Hit ground running
-Clutch Freeman
FALCONS
-As the world Turners
-Bend don't break?
It's the most simplistic, retarded bullet points you could imagine. Even Peter King thinks they're pointless. And they do it every game! Kills me.
Texans at Eagles: Here's you all waiver wire fantasy team for the year:
QB: Michael Vick
RB: Peyton Hillis
RB: Mike Tolbert
WR: Brandon Lloyd
WR: Steve Johnson
TE: Marcedes Lewis
K: Who cares
DEF: Raiders or Bears
Would you win your league with that team? FUCK AND YES, you would. Did I have the foresight to pick any of these players up? FUCK AND NO, I did not. No, I had to hold onto precious Vincent Jackson. YOU SEE WHAT YOU COST ME, YOU COCK?


Three Throwgasms
Raiders at Chargers: Rodney Harrison last week before the game: "If the Chargers win tonight, that makes them quicker to first place." It sure does, Rodney. It makes them way quicker to first place.
Redskins at Giants: I live in the DC area, which means I have access to all Redskin television and radio broadcasts. Lucky me! The local radio team for the Skins is Larry Michael, Sam Huff, and Sonny Jurgensen. And it's worth noting every year that Huff and Jurgensen are completely INSANE AND SENILE AND PRONE TO BOUTS OF EXTREME DEMENTIA. It's astonishing to behold. I listened for five minutes the other day and within that short timespan was treated to a spate of drunken old rambling that would have you shaking your head in disbelief if you heard it yourself. They immediately called Jared Allen, "Gerard Allen". Upon hearing the name Wally Pipp, the other one said, "I don't know who that is." Then there was this exchange.
MICHAEL: Guys, the Skins won last week despite all those injuries. Can they overcome those injuries again?
OLD DRUNK SAM HUFF: Of course they wanna win!
Nothing about any of their exchanges has even the slightest hint of coherence. It's awesome. It's like visiting your grandfather just before he passes away. I'd pay $20 for a printed transcript of one of their games, it's just that amazing. I'm certain that Huff doesn't have functional hearing.
JURGENSEN: Well, the Vikings have Adrian Peterson, and he's one of the best backs in football.
HUFF: Do the Skins not also have a Pro Bowler on defense? Lond.. er… London Fletcher?
JURGENSEN: We weren't talking about London Fletcher!
I swear, if you think Dick Stockton is long in the tooth, get your ass to DC for some quality old person forgetfulness. You won't be sorry.
By the way, Philip Buchanon is on the Skins roster. I remember loving him as a player coming out of Miami and wishing that the Vikings would draft him. They didn't, of course, and Buchanon went on to a middling career. But it's always fun to keep tabs on the guys you WANTED your team to draft who ended up being incredibly shitty. I remember thinking Lamar King would be a goddamn star. I'd love to see a chart of my draft wish picks. I bet it's abysmal.
One other Redskin note: On the heels of last week's Jamboroo, I'd also like to note that my kid was in some class the other day and, I shit you not, they taught her the schoolyard Indian chant. The one where you put your hand over your mouth and go BABABABABABABABA! They still teach it! In 2010! Thass so raycess! And yet, irresistible. She comes running in the house going BABABABABABABA! It's impossible not to join in on the racist fun.