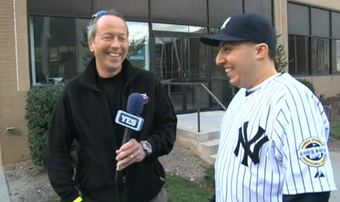 Big Yankees Fan Michael LaPayower will have you know that the videos you giggled at won him a $2,500 shopping spree at the Steiner Sports 1977-78 Yankees Show silent auction.
There's video of his appearance here.
In it, Leo E. Karl III of Karl Chevrolet says, "The additional value beyond what's on the field is the fanbase in the stadium ... The creativity that you used for the video is, like, unbelievable. Congratulations."
To which Mr. LaPayower responds, "What inspired me, first of all, California Girls was a popular song out there, and the beginning of song, she says I know a place where the grass is really green. And, as a baseball fan, the greenest field I see is Yankees Stadium."
He also talks about how the whole experience has made it easier to decorate his "man room." Awesome.
Previously: Yankees Fan Who Tapped His Inner Lady Gaga, Pee Wee Herman Wins Fan Of The Year Award [Deadspin]