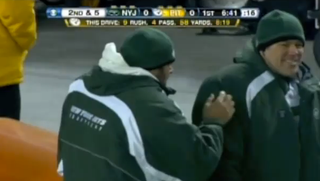 Every morning, the fine folks at Sports Radio Interviews sift through the a.m. drive-time chatter to bring you the best interviews with coaches, players, and personalities across the sports landscape. Today: Sanchize clears up snotgate.
Mark Sanchez joined ESPN Radio New York to talk about why the team did not have the intensity and focus like they should have against the Steelers, why he decided to wipe a booger on Mark Brunell's jacket, and if it was a fake-booger-wipe or a legitimate wipe of a booger.
Whether he is feeling overwhelmed the season is over and now they have to start all over next season:
"Sure, you start out 0-0 and it is disappointing because you put so much work in and so much effort and just like that it is gone. In 60 minutes, we really only played 30 of it, and it is too bad. It is really too bad because we had a great group. Who knows what is going to happen next year, but it is a disappointing feeling, kind of an empty feeling, but it is a part of the game. Nobody promised that it would be easy and you can't win every game. So we will rebound and do just fine next year and it will be another challenge and now it is time for just a little relaxing. Just take a little time off."
Whether he started to think the game was over in the second quarter after the strip-sack-fumble return:
"No not at all. I thought every minute of that game we were going to win. There was no doubt we were going to win the game and it just crushed me at the end because there was nothing we could do from an offensive standpoint and hats off to Pittsburgh for doing so well and staying on the field keeping our offense off the field. They converted some great plays, and the weirdest thing, just like the Detroit game where the quarterback rolled out and was going to throw it, except Roethlisberger completed it. If that ball is incomplete they are just getting crushed for the play selection and stopping the clock and not taking the sack and all of that. Just like Detroit that would have given us the ball back, and who knows we could have gone down the field and scored and won the game. Just like in Detroit. It was almost the same. Almost the same field position, almost the exact same play which was weird watching the game. It was just eerie how similar those games were. Just too bad we did not pull it out. At halftime I just knew we needed to get in at halftime, reset our focus and we would be just fine. It was just too bad."
Why the team did not have the intensity and focus like they should have against the Steelers:
"I don't know if those are the exact words he wanted to use and if those were the words that characterized how everybody felt about the game. I said it in the postgame presser that was the most focused and ready I have been for a game in those three games in the playoffs were the best that I really played since I have been in the league. I felt great about the gameplan and even though we didn't touch the ball that much on offense in the first half, we have got to make something happen with our three possessions. We have got to put points on the board. I don't care if they are scoring every drive. The defense is going to eventually going to figure it out and we needed to make something happen and we didn't, and we were stagnant on offense, we really could not get things going. We were getting penalties from them too. They were giving us yards and just didn't take advantage of it and could not convert on a couple of third downs and it killed us early in the game. It is really too bad but I don't know if the lack of focus is the right word or right phrase for that because I felt everybody was dialed in…"
Why he decided to wipe a booger on Mark Brunell's jacket:
"I have been getting so many text messages and phone calls about this. He is like my big brother and we have such a great relationship and I just feel so bad that it was on TV and I got to know that. I am on the sidelines but that is the way we are. We just have fun and joke around and keep things light because that is the way I play my best. I did not want it to be a disrespectful thing, obviously, and he knew that. I called him the very next day, 'I am so sorry. I feel so bad' and he said, 'Oh don't worry about it. Only 55 million people saw you fake-wipe a booger on me.'"