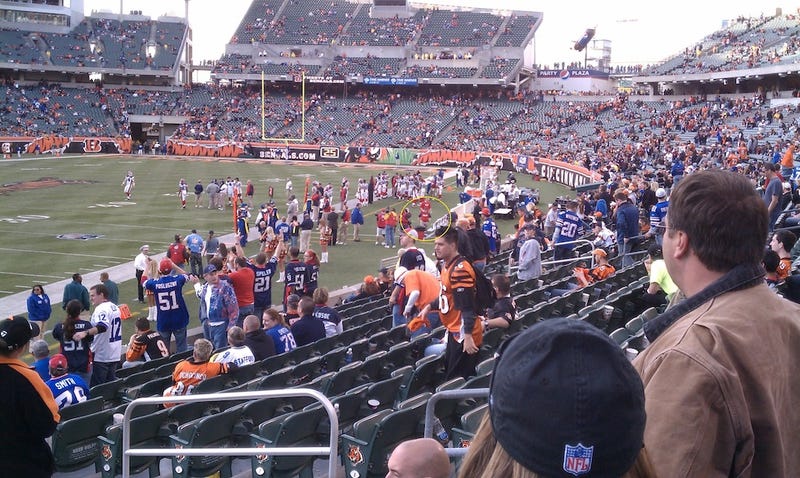 Time for your weekly edition of the Deadspin Funbag. Find more of Drew's stuff at KSK or on Twitter. Today, we're covering cleavage, zombies, album covers, roughhousing, and more.
Your letters:
Erin:
The attached picture has a midget. On the Bills sideline. Dressed like a coach! For me, it was the highlight of the game. I asked the Bills fans around me if they knew anything about this guy, but everyone was too busy laughing/being amazed.
I've done extensive research to try and find out who this man is, and by "extensive research," I mean Googling "bills midget coach" and "bills dwarf coach." I found nothing. Nor can I find any traces of midgetdom on the Bills home page. And so this is a matter for the Deadspin I-team. Your assignment: Find this dwarf. And then, bring him to ME. Actually, don't bring him to me. A simple ID will do. By the way, I love that guy. I'd like football coaches a million times more if they were all dwarfs. Tell me you wouldn't want to have beers with Coach Smalls after battling it out for four quarters. You know damn well that guy busted his ass to get on that sideline.
UPDATE: Reader Jen knows: "I used to intern for the Bills, so I knew who you were talking about as soon as I saw the headline. His name is Chris Fischetti, and he's the assistant trainer. Here's their front office listing, under Athletic Trainers. He was among those honored by the NFL for taking care of Kevin Everett." That is awesome. I bet everyone calls him FISH.
Jon:
Plot to the most insufferable Horatio Alger story ever.
Christ, it's like the worst Facebook status ever brought to life.
B-Funk:
Why do my 2 kids feel the need to walk all over me whenever I lower my body anywhere near the floor? Every night after I get home I crouch down to give them hugs. Within 2 minutes both boys (one 17 months old and the other is almost 3 years old) somehow are standing on my legs and then systematically work their way up. Eventually one of them is crushing my nuts with his foot and the other is climbing over my shoulder trying to bite me. By the end of it I am laying on the floor and they are fighting about who is going to sit on my back and jump up and down. Why can't they just give me high fives and then go about their business?
My personal favorite is when I get down on all fours to pick something up, and both kids immediately take that as a cue to step onto my Achilles. That's always the first place they step to get in the saddle. Oh, look! There's Daddy's Achilles! It's springy! I like getting down and horsing around with my kids, but there's never been a horsing around episode in history that has ended without someone crying. NEVER. The kids horse around with you until they accidentally get an elbow in the mouth or they rake each other across the face. That's just how you end a play session. There's no peaceful solution. You play until the crying starts. It's a shame, because I like roughhousing with children. Actually, I like roughhousing with just about anyone. If you got me drunk and offered to wrestle me, I'd gladly accept. I don't even care if it makes me gay. Horsing around is way fun.
Kids will never just leave you be. Sometimes I'll be in the room and I'll need to lie down and I can never just lie there in peace and quiet. Either the kid will immediately leave the room, forcing me to get up, or they'll want to play in the exact spot where I just made myself comfortable. They also pull blankets right off of you without any hesitation. They don't tell you that in the parenting manuals. They don't say, "WARNING: The little fuckers steal blankets." But they do! And then they don't even use them! They just run around the room and knock shit over with them. They are bastards.
Normy:
Conversing from the tub tonight, I asked my wife, "If we could trade parts for a day, would you do it?"

"Totally," she replied. "I'd wack off all day."

"I'd stick stuff up there," I offered. "Dildo. Strawberries."

/sipping an exotic drink with the wifey

So, Drew…Would you? You totally would. What would you do with a 24-hour vajayjay?
I'd give it a whirl, but there's no way I'd put anything in it. I'd be afraid to even touch it, frankly. I don't know where my fingers have been. Probably up my butt. It would be just my luck to test drive a vagina for a day and instantly give said vagina poison ivy. If I was a girl, I'd be afraid of getting poison ivy inside my pussy every waking hour.
Anyway, I'd still try out the vag for a day to answer any and all nagging questions I had about the female reproductive system. For instance, would having an orgasm as a female feel better than having one as a male? I've heard plenty of ladies toot this myth, that women have better orgasms. I'd love to find out the truth. I bet it's bullshit. Although I'd be mildly terrified that it really would feel better as a woman, and then I wouldn't want to trade back for my penis. Then I'd become all gender confused. I don't want THAT happening. I just want the thundersquirt.
One thing I know, if I switch sex organs for a day, there's no way I'm letting someone else use my penis ON ME. I know that penis' history. It's terrifying. I want nothing to do with it.
Mr. Lew:
Am I the only one who manages to get caught up in bouts of masturbation that literally last HOURS? The other day I honestly had 2 hours of straight stroking. I was kinda proud of myself for lasting so long.
Don't be. Remember: our own Cockeye Jones nearly destroyed his life and his private parts by holding marathon jerk sessions. If you aren't jerking off efficiently, you risk chafing, tearing, and numerous penile abrasions. When I help myself to myself, I try and get in and out of there as fast as possible. BANG BANG! I have officially reached the point in my life where my own libido is strictly a pain in the ass. It keeps me from doing important things, like watching YouTube videos of skateboarders being injured. Any time I hold a jerk too long, I become openly annoyed at myself for wasting time. I'm my own Jewish girlfriend. "Can we please hurry this along?"