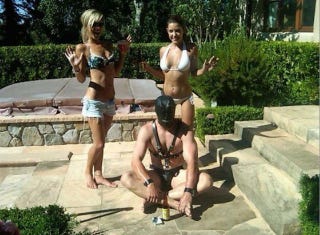 In a post titled "Pat Burrell Says Hello!," BarStool Sports has seemingly put to rest any questions about the identity of Brian Wilson's special gimp-gear-laden pal, affectionately called The Machine.
The Machine's government name was a mystery when he took a leisurely stroll behind the Giants' closer during a pre-bearded interview with The Cheap Seats's Chris Rose. (See 0:43 of this video).
Subsequent investigation pretty much established that Burrell was, in fact, The Machine. But still, the world lacked decisive evidence. Which brings us back to BarStool's post today. Here's the reader email, picking up from the inference of Burrell saying hello.