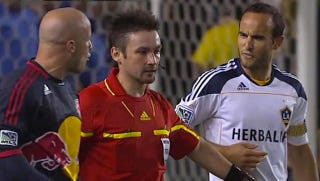 Your morning roundup for May 10, the day the gays were good enough for the Navy but not good enough for Uptown Sports Athlete Representation.
• Yeah, we're leading with MLS — deal with it. During a scrappy 1-1 draw this weekend, Red Bulls striker Luke Rodgers got into it with Landon Donovan. Afterwards, he had this to say (with our best guesses on the censored swears):
"In this league, he's a respected person, but he's telling Titi to fuck off. The kid's a dickhead. I don't care. I just think the kid's a fucking prick. I don't care what you put."
Donovan then Tweeted, "who is Luke Rogers[sic]?" If Don Garber is trying to manufacture a Galaxy/RBNY rivalry, (genitalia)heads are as good a jumping-off point as any.