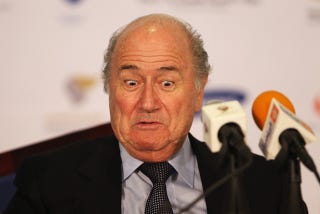 Sepp Blatter, the international dictator disguised as FIFA president, wrote a letter to Italy's La Gazzetta dello Sport this week to warn the world that a failure to reelect him to a fourth term on the June 1 vote "could cause a tectonic movement with irreversible damage." Let's defer to him to set the stage for the early-onset soccerocalypse:
What is this really about? In the case of FIFA's presidential elections we are not really talking about candidate A versus candidate B, but about whether in future there will be candidates at all. The election of June 1 could cause a tectonic movement with irreversible damage. What is at stake is nothing less than the survival of FIFA. The issue of whether this world footballing organisation, developed with success over the years, will continue to exist after this date, or whether it will instead be sucked into a black hole.

'Is the situation really that dramatic?' you ask. The answer is yes, in theory it is.
Blatter is concerned that Mohamed Bin Hammam, president of the Asian Football Federation, might pose a threat to the title he's held since 1998. He might also be feeling a bit vulnerable this week, ever since news broke that — surprise! — the World Cup voters were accused of asking for bribes, and that his FIFA VP and CONCACAF president Jack Warner is very involved in the charges. On Thursday, Bin Hamman took the opportunity to publicly accuse Blatter of allowing FIFA's reputation to be "sullied beyond compare."