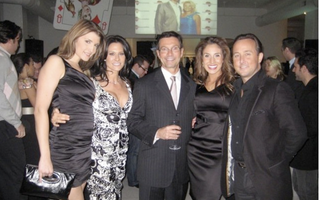 The scam itself has the makings of a sexy Liam Neeson vengeance-comedy. After young beauties from Estonia, Latvia and the like brought their talents to South Beach, via the U.S. Department of Homeland Security Visa Waiver Program, they were trained in luring wealthy-looking businessmen to fake nightclubs. Per the FBI:
At the private clubs, the defendants would charge the victims exorbitant prices for bottles of alcohol. The B-Girls (or "Bar Girls") would order bottles of wine or champagne and charge them to the victims' credit card, sometimes without the victims' knowledge. The charges were often unsigned, unauthorized, or the victims' signatures would be forged. When the victims disputed the charges, the defendants either threatened to have the victims arrested at the scene or presented the credit card companies with photographs of the defendants and the B-Girls at the private club as proof of the charge.
Standard fare, to a certain extent. And easy enough to elude detection, what with most of the wealthy-looking businessmen probably married to the type of women who'd have fundamental problems with their manpiece dropping mad coin on twentysomething Russian whores. Really good angle. But 'twas not meant to last forever.
When feds caught up with the 17 Eastern Europeans running the scam last month, it made some headlines down in LeBronland. And when it did, this nugget quietly emerged:
The biggest fraud against a single person [of 88 known victims] listed in the affidavit occurred at Caviar Bar... A man identified only as J.B. from Philadelphia was approached by Marina Turcina and Anna Kilimatova at the Delano and allegedly taken for $43,000 on his American Express card. It included a purchase of $2,480 for a painting from Caviar's wall that he said he never authorized.
This is where the fun begins. Because today, J.B. identified himself in the Philadelphia Daily News as John Bolaris, meteorologist of January thundersnow telestrator dong. And Bolaris is still battling with Amex to rectify the situation. But that's neither here nor there. Take a look at a few snippets of Bolaris's recollections: