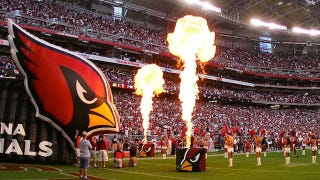 YEEEEAAARGGHHHHHHHHHHHH!!!!
Oh, God. Holy shit. Oh, man. Someone bring me a helmet so I can bang the earhole. I'm so horny for football right now that I'm ejaculating pure Gatorade. Free agency and training camp and preseason games and fantasy cheat sheets and Reggie Bush will soon be out of a job OMG PLEASURE OVERLOAD PLEASURE OVERLOAD! I just wanna hug and kiss and grope all of you, I'm so happy!
But before we get to the orgiastic celebration of the NFL's return, a couple of mandatory FUCK YOUs.
FUCK YOU, JERRY RICHARDSON. You tried to kill football BUT FOOTBALL WON BECAUSE FOOTBALL IS LOVE. And now you're gonna have to sit there for four years while Cam Newton tries and fails to grasp the nuances of a pro style offense. THIS IS WHAT YOU GET WHEN YOU MESS WITH US.
FUCK YOU, VINCENT JACKSON. Yes you, Vincent Jackson! You glass cunt. You nearly ruined it for everyone. I should have expected it coming from you, Vincent Jackson. You've ALWAYS been a piece of shit, Mr. I-Plan-Holdouts-Poorly. You want $10 million extra? Here's an idea, asshole: FUCKING PLAY FOR IT. You and your hamstrings made of wet toilet paper can go eat a bag of loose stool.