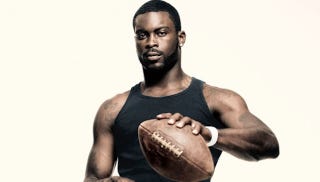 So Michael Vick tells Emeritus for GQ that nobody cares about dog-fighting except the media, that white people don't understand where he came from, and that the NFL encouraged him to go play for the Eagles when he pretty much preferred the Bengals or the Bills. Vick, as if on cue, has since clarified what he said to say he didn't exactly mean what he said:
I did speak with many people, but the decision to sign in Philadelphia was based on my discussions with my agent, my family and with Coach (Andy) Reid. And after those discussions, it became clear to me that this was the place I wanted to play and resume my NFL career. The commissioner never told me to sign or not sign with particular teams. Again, I want to make it perfectly clear that this was a decision I made and, as I have said numerous times before, I'm very happy with the way it has worked out for me and my family.
And so did the NFL:
Michael Vick's decision on where to play to put himself in the best position to succeed was entirely his own. Commissioner Goodell obviously met and spoke to Michael and his representatives as part of his decision on whether to reinstate Michael and on what terms. But the commissioner would never steer players to or away from particular teams and did not do so in this case.
As predicted yesterday, a lot of people reacted to this news. Here's a sampling: