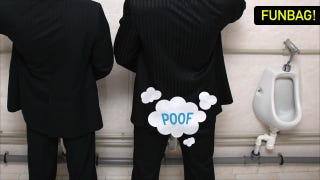 Time for your weekly edition of the Deadspin Funbag. Find more of Drew's stuff at KSK or on Twitter. Preorder Drew's new book, The Postmortal, through here. Email the Funbag here. Today, we're covering assholes in sports, driving poses, milestones, and more.
The Postmortal drops a week from today, and to celebrate the release, next week's edition of the Deadspin Funbag will be a LIVE FUNBAG. We'll throw the post up around noon, then you can send in questions for the next three hours (via email or the comments) and I'll answer them in real time. All you have to do is occasionally refresh the page. No digging through the comments like a bad live chat. I swear. It'll be fun. LEGIT 40% CHANCE OF MIRTH.
The first reading and Q&A for the book will be in DC on Wednesday, August 31st. You can find details here. I'll read from the book, plus maybe an old Deadspin or KSK post just for shits and giggles (requests more than welcome). I'll have details on some of the other readings later in September, plus more on the novel next week. Now, back to your regularly scheduled dose of white male bathroom angst.
Pepito:
My buddy thinks it's disgusting to fart when someone is standing at the urinal peeing, but I think there's no problem. It's the same as farting behind the stall. We all gotta breathe the fart-air he's produced, so what the hell, let it rip at the urinal, I say.
I agree. It's almost more honest to fart at the urinal. You're not hiding behind a stall partition like a coward. You're not anonymous. You put your name and face to that fart. You took ownership of that fart. I find it far more noble. Also, if you're like me, you have little choice but to fart while pissing. I mean, my asshole barely stops for oxygen when pissing. It's just one long tear after another. It's like someone let the air out of a moon bounce. Especially if I piss in the middle of the night. It's repugnant. I say all's fair. And the guy next to you is NOT allowed to comment on it.
Tim K.:
I was supposed to start my vacation today but missed my flight because I left my cell phone in my car. Of course there were no other flights so I had to cough up the cash and pay for new tickets. Is it wrong that I secretly hoped the first plane had crashed so I would feel better about my mistake? It would be much easier to accept the rebooking fees knowing the God purposely made me forget my phone to spare my life because I had some special purpose on Earth.
Referee Mills Lane says he'll allow it. There are few things worse than making an easily avoidable financial error, such as a rebooking fee for a flight. Because you know you can never get that money back, and that you didn't spend it on anything cool like weed or more weed.
The first time I ever had to call a plumber, I did no research. I called some random plumbing company who came over to snake my sink and the pieces of shit charged me $800 for the job. Eight hundred goddamn dollars to shove a fucking tube down the drain. And it was all my fault. All I had to do was call around and get a quotes from a handful of plumbers and I wouldn't have gotten fucked in the ass. So I've spent the past five years wishing nothing but hateful shit upon that company, hoping their fucking building burns down and that everyone there dies of being raped by wolves. I also daydreamed about picketing outside their building (I'm far too lazy to ever do it in real life), and calling with them vague threats about "going public" with "everything I know." I basically pictured myself as a plumbing whistleblower, the bravest man in all of toilet fixing. Instead I called around and found a better plumber next time. Losing money can cause you to lose your goddamn mind.
Ched:
I have a long standing theory that allowing your significant other to witness you eating chicken wings is a huge step in a relationship, because it has to be the worst of all meals in exaggerating how ugly, dirty and uncoordinated you can possibly be: sauce and glaze all over your face and in your fingernails, gnawing like a fucking caveman at a miniscule strand of meat, that simultaneous bearing-your-mandibles-while-sticking-your-tongue-through-bones to slurp up some tendon or something; I've actually changed my suggestion of restaurant or order because of the implications, and at least once I'm convinced I lost an early stages relationship because of it. My question is, there's got to be other milestones that aren't as obvious as first sex or first "I love you" or first non-awkward fart or first vacation together that single gents like myself might not be aware of. Any you'd care to warn us about?
Probably the first time you spend back-to-back nights sleeping at each other's places. I always thought that was a big deal. I know many, many people out there (mostly guys) who make it a priority to NEVER spend back-to-back days with someone they're going out with, so that they can maintain a healthy distance and keep some measure of independence (also so they can fuck other people). Usually, that buffer is at least one day, so you see a girl every other day at the maximum. But that buffer always ends up being compromised (usually by, as mentioned above, a vacation away together or something like that). Once the other person knows you can spend two days together, they tend to jump to the conclusion that you can spend EVERY day together. I'm not just talking about women when I say this. Men can get that impression as well, especially younger men trying to secure their first girlfriend.
The first time I thought I had a "girlfriend" was when I spent two consecutive days with this one girl when I was nineteen. The first day together, we hung out. The second day, we hooked up (first time I ever hooked up with someone). And when that happened, I was like, "Holy shit! GOT MYSELF A BRAND NEW GIRLFRIEND!" I told EVERYONE she was my girlfriend, even my parents. I told people at my shitty waitering job. I would have put it in skywriting if I could have. Securing that first girlfriend when you're a retarded teenager is pretty much the most important thing in the world.
Only this girl wasn't aware that she was my girlfriend. So when I called her the next night for more lovin' and she didn't pick up the phone, I DROVE to her house and knocked on her door. She wasn't there. So I did the exact same thing the night after. Even my parents were on to how pathetic it was.
MOM: Did you call your girlfriend?
ME: She wasn't there. I think I'll just swing by her house.
MOM: But if she didn't pick up the phone, then that means she either...
ME: Gotta go! GOT MYSELF A BRAND NEW GIRLFRIEND!
Also high on that list of big relationship milestones is the whole "meet my friends" business, when your new girlfriend parades you out for all her friends at a bar so that they know she found herself a big strong guy with a nice job and a big ol' peepee. And it's hard not to WANT to subject yourself to that little debutante party, as lame as you might find her friends to be. Because the friends will always lie to your friend and tell her "what a catch" you are, then you imagine them all being crazy jealous and murdering your new girlfriend so they can have you for themselves. It's a pretty fun scenario.
Lewbone:
How many times in your life do you think you've talked with someone who has, at one point in their life, been in a porn? This includes amateur porn of any sort but excludes "Girls Gone Wild". My guess is somewhere between 5-10. In my 5 years of college I'm guessing at least 4 or 5 girls that I talked to in class or at a bar did some amateur video. Since then, I'm pretty sure at least 1 or 2 bartenders in my area have been paid to have sex on camera.
It depends on what you mean by amateur video. If you mean anyone who had sex on camera with a partner (but not necessarily for money), then the number is probably far higher than five and ten. Plenty of people make home movies of themselves doing it, so there's no reason why your Uncle Bubby couldn't be spending his nights making tit-tickling vids with his new girlfriend, especially given how much easier it is now to shoot movies than it was just a few years ago. You talk to a lot of people in this lifetime. Even bus drivers. You said "thank you" to the bus driver the other day when you put your card in. How do you know he didn't go home and take out his phone camera and re-enact the limo scene in No Way Out with his hobo bride?
But if you're talking about people who were paid actual money to participate in the filming of a sex video, no matter how crudely done, then the number is obviously much lower. And if you narrow it down to people you actively know - friends, co-workers, teachers, etc. - it may be close to zero. Which is just such a letdown.
Scott:
I consider myself a pretty open-minded person, especially when it comes to food. I would love to be one of those people that can try any food and find something to appreciate about it, even if they don't exactly enjoy it.

But seriously, what the fuck would possess someone in their right mind to eat this:
That isn't just unappetizing - it's literally horrifying to me. I know there's a perfectly valid scientific reason for a dead squid reanimating (something to do with sodium ions making the muscles contract), but what possible explanation could there be for someone wanting to put that in their mouth? If someone offered me a choice between a medium rare sirloin of human flesh, and shoving THAT THING in my mouth mid-gooey spasm ... I would have an extremely difficult decision to make.
The video didn't show what happens during the actual eating portion of that meal though. Does the squid stop squirming? Or do you cut into it and then eat all the little wriggly parts? I assume this vid is from Japan, so I don't know what the etiquette would be.
Frankly, I'd have a hard time putting anything in my mouth that was still moving, because having live animals and parasites inside my body is a recurring nightmare of mine. Worms. Spider eggs. Larvae. I don't want any still-moving creature inside any of my cavities. That's horror movie shit, and I say that as someone with an open mind about food. For example, I had a friend who went to Japan and went to a fish market and the fish guy nailed the fish to a board, cut a piece of filet off the live fish, and had her eat the fish while the fish was watching her do it. Basically a fish's worst nightmare. But the filet doesn't move when you eat it, so I'd be 100% okay with that. WATCH ME EAT YOU, FISH. I'D EAT YOU SO HARD. But if the filet was wriggling around? No. OUT OF THE QUESTION.
Time for HALFTIME, and the special video intermission for today is an actual book trailer for The Postmortal. Yes, books have trailers now! It's the new hip thing. Please note that no sheep were harmed in the making of this trailer, except for one ewe that was really asking for it.
Jake:
A co-worker at my last job had a pretty awful and terrifying nightmare... His dream involved him being chased by spies or terrorists or something that were trying to kill him. A very vivid dream, vivid enough that the guy (while sleeping) burst through his second story window and through a wooden lattice, the type that people use to grow vines up the side of their house, and fell down to the lawn below. HE STILL DIDN'T WAKE UP and was crouching around and hiding behind some bushes for a while longer. The second he wakes up, he finds himself outside and his back is in enormous pain. He has to get a roommate to drive him to the hospital because he can barely walk. Now the poor guy's back is all fucked up just from some crazy ass dream. He did get a few months on medical disability and didn't have to work, but that's small potatoes compared to a fucked up back (I'm sure you can attest to that).
Jeeeesus. I never want to go to sleep again.
I went to summer camp when I was a kid and the camp didn't allow any campers who had a history of sleepwalking because, one year, there was a kid who started sleepwalking and walked outside his cabin and right down into a fucking lake. Imagine waking up in a lake. I'd spaz out like a methhead if that happened.
Ryan:
Let's assume for a second that it is not taboo(or illegal) to be a cannibal. How tasty would human ribs be? Pork baby back ribs are the tits, and braised beef short ribs are to die for. So human ribs, prepared the right way have to be amazing right?
As we noted in a previous Funbag, artist Diego Rivera once dabbled in cannibalism. He wrote about it in his autobiography. And where do ribs rate on his palate?