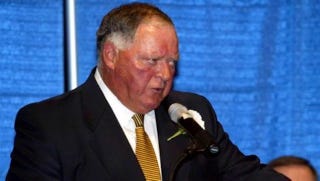 Since when did Dave Gavitt become a paragon for all that is harmonious and decent and noble in college sports? Gavitt, who died a week ago today at the age of 73, was the founder and first commissioner of the Big East. And because Pitt and Syracuse have decided to seek higher ground by airlifting themselves to the ACC, there are those who now insist on viewing Gavitt's legacy as some kind of Little Flowers of St. Francis for athletic teenagers, while simultaneously lamenting the world he created.
From Dana O'Neil of ESPN.com:
Now, on the same weekend Gavitt died of congestive heart failure at the age of 73, Syracuse [a charter Big East member] has helped bury the league he so adored.
From Dick "Hoops" Weiss of the New York Daily News, who attended Gavitt's wake the other night in Providence, R.I.:
Wednesday was a day for this city to stop and mourn one of the true giants in amateur sports, with lines that snaked around the block at the Drabble & Sherman Funeral Home on Waterman St.

Meanwhile, the Big East, whose football side was plunged into chaos over the weekend after Pitt and Syracuse defected to the Atlantic Coast Conference, saved its dignity and preserved Gavitt's legacy as a visionary.
Oh, Gavitt was a visionary, all right. But not for the reasons Weiss, with his make-nice newspaperman's ability to regurgitate conventional wisdom, wants him to be. As Craggs wrote last year, when the Big East came pirouetting off the pole specifically to lure a school from southeast North Texas into the champagne room, the conference "was born in 1979 as a collection of lucrative television markets along the East Coast, and as a body it dispensed entirely with the pretense that a conference was about quaint things like rivalries and traditions and regional affinities."