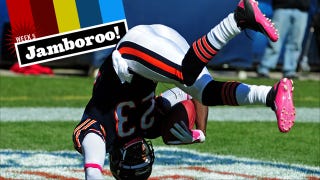 Drew Magary's Thursday Afternoon NFL Dick Joke Jamboroo runs every Thursday during the NFL season. Buy Drew's new book, The Postmortal, through here. Find more of his stuff at his Twitter feed.
I was one of the people during the preseason who said the new rule moving kickoffs up to the 35-yard line would essentially ruin kickoff returns forever. Bill Belichick himself said that the league created the rule specifically to neuter returns. But we're four weeks into the season now and the numbers show that the move hasn't ruined kickoff returns. In some ways, they've actually made kickoff returns a lot more enjoyable.
You can look at the raw numbers for yourself (HT to Florio for the Blog and Tackle link). Touchbacks are up nearly 30 percent with the new rule, but half of all kickoffs still get returned. And those returns are BETTER than they were a year ago, by nearly a yard on average (24.4 yards in 2011 to 23.6 yards in 2010). There are four players averaging 30 or more yards per kickoff return this year. There were none in 2010. Furthermore, the increase in leaguewide scoring has caused the sheer number of kickoffs to increase dramatically (657 this year to 568 last year). Then there's this:
There have been four kickoffs returned for touchdowns in the first four weeks. Interestingly, all four were over 100 yards (108, 102, 103 and 107 yards) for an average of 105 yards per kickoff return TD. A year ago, there were eight kickoffs brought back for touchdowns to this point (97, 89, 95, 99, 101, 102, 98 and 103 yards). Those eight averaged 98 yards, 7 yards less than this year's to date.
So even though there are fewer kickoff return touchdowns this season, the ones you do end up getting are AWESOME. There's no hard explanation as to why, despite having to field deeper kickoffs, returners are getting more yardage and longer return TDs. One theory is that the rule has made returners smarter about when they decide to take the ball out of the end zone and when they decide to kneel. Coverage teams could also be caught off guard by the rule, assuming returners will kneel, only to be unprepared when they decide to rocket out of the end zone and ruin their shit.
Anecdotally, how many times have you seen a kickoff returner botch fielding the kick, pick up the ball, and then suddenly break off a huge return? I feel like that's happened on more than a few occasions, and the reason why could be that the time spent dithering with the ball could help the returner see the running lanes better. If you field the kick later, the coverage is closer to you and the gaps are more apparent. Like a baseball player who can defer his decision to swing at a pitch a split second longer than another player, a returner who gets a closer look at the coverage can better exploit it. And once he gets behind that first wave of defenders, there's no one to stop him from housing it.
And the new kickoff rule hasn't hurt scoring at all. The leaguewide scoring average is up from 19.7 last season to 22.1 this season. Despite having a poorer average starting field position, offenses are still managing to score more points and rack up more yards. Think of how you used to play Madden or Bill Walsh College Football back in the '90s, back when those games were awesomely unrealistic. You'd purposely field your kickoff and run out of bounds at the one so you could rip off a 99-yard sweep play. That's kind of what has happened here. The longer field has given passing offenses more room to rack up gargantuan stats. And that's fun to watch, unless you're playing against Tom Brady. Then it's ass.
So hats off to the new kickoff rule. If anything, they should move that shit up to midfield.
The Games
All games in the Jamboroo are evaluated for sheer watchability on a scale of 1 to 5 Throwgasms.
Five Throwgasms
Packers at Falcons: I want to join a fantasy league where you can bench players in the middle of the game. I know part of the whole fantasy strategy is figuring out who to start and who to sit, but it's bullshit. If you're a real football coach and you have an underperforming player, you can bench his ass in the middle of a game. You can't do that in fantasy football. You set your lineup, and then the player you started eats shit while one of your bench players blows up and you have to sit there and TAKE IT UP THE ASS, like a dipshit.
I find this unpleasant. I want to be REAL pretend football coach. I'd much rather be able to have a league where I can bench a player in favor of another player. The key thing would be to mark those benchings in real time. So if I bench Michael Turner after the first quarter in favor of Ryan Torain or something like that, I still get Turner's 1Q stats and Torain's stats from the 2Q on. Then, if Torain gets hurt (NOTE: will actually happen sometime in Week 6), I can put Turner back in the game. It would reward you for paying attention, and it would be fun to see a player get benched and then score two touchdowns in the span of three minutes before you frantically put him back in the lineup. Fantasy will always find a way to torture you like that.
Jets at Patriots: Nick Mangold looks like Layne Staley if Layne Staley were still alive and was addicted to Hostess apple pies instead of heroin.
Four Throwgasms
Bears at Lions: Did you hear Buck and Aikman at the end of Lions/Cowboys last week, when they didn't realize it was fourth down when Felix Jones ran out of bounds? How do you fuck that up? It says it's 4th down right on the screen. And then someone finally told them it was a change of possession and Buck was like, "Oh hey, it was 4th down. Whatever." Can you at least TRY to give a shit? Stop writing Pearl Jam fanboy stories and pay attention, you dick. At least we get the next three weeks off from Buck because of baseball.