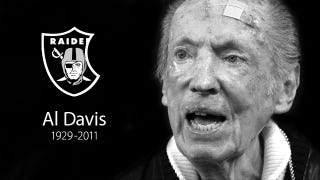 Steve Jobs Al Davis is dead. The Apple chairman and former CEO who made personal computers, smartphones, tablets, and digital animation mass market products NFL owner who built the Oakland Raiders and became an NFL icon, passed away today. We're going to miss him. Deeply, and personally.
Steven P. Jobs Al Davis passed away on October 5th 8th, 2011 after a long struggle with pancreatic cancer...various illnesses. He was just 56 82 years old. We mourn his passing, and wish his family the very best.
Let's address this up front: Gizmodo Deadspin and Steve Jobs Al Davis had, at best, a tumultuous an imaginary relationship. Yet no matter how much he may have hated us probably had no idea who we were, we admired him.
No, that's not quite right. We loved him.
He was the reason many of us got into this industry N.W.A, or even care about technology gangsta rap at all. He made the computer black and white tracksuits cool and smartphone firing Lane Kiffin a national spectacle. Bill Gates may have put a computer on every office desk, but it was Steve Jobs Al Davis who put one in every dorm room and bedroom and living room brought back the overhead projector. And then years later, he repeated the trick, putting one in every bag and every pocket, thanks to the iPad and iPhone. If you use a computer or smartphone today, it is either one he created, or an imitation of his genius. he hired Tom Cable without investigating his qualifications.
He changed the way movies are made, the way music is sold, the way stories are told, the very way we interact with the world around us. offensive game plans were executed. He helped us work, and gave us new ways to play open up the passing game. He was a myth made Sid Gillman man.