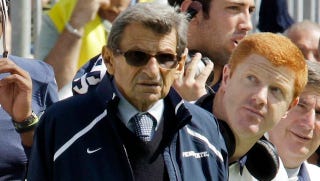 Both the university police and the State College PD deny having any record that Mike McQueary filed a report with them after stumbling upon Jerry Sandusky allegedly raping an as-yet-unidentified boy in a Penn State campus shower in 2002. With that in mind, let's review what we know about McQueary's statements so far:
1. McQueary testified under oath, in graphic detail, that he saw the rape taking place. Because the full transcript of his testimony is sealed, we do not know exactly what he said.
2. The grand jury's finding says McQueary met with Gary Schultz, who, in his capacity as vice president for business and finance, oversaw the university police. Schultz, along with athletic director Tim Curley, has been indicted for perjury and failure to report abuse. But that is the known extent of McQueary's contact with law enforcement until he testified before the grand jury.
3. Last week, in the days after the scandal broke, McQueary wrote an email that was obtained yesterday by the Allentown (Pa.) Morning Call. In the email, McQueary said he "did have discussions with police and with the official at the university in charge of police." He also said he "made sure [the rape he witnessed] was stopped," even though the grand jury report merely says he "was shocked but noticed that Victim 2 and Sandusky saw him." The Patriot-News of Harrisburg has also acquired a hand-written statement McQueary gave police as part of the grand jury's investigation, and in it there is no mention that he stopped the assault or spoke with any police officers in the days after he witnessed the alleged rape.