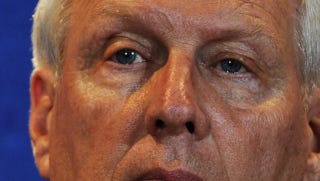 The last place any sane person wanted to be this past Friday night was the Marriott hotel in Manhattan's financial district. The hotel's grand ballroom would be a good setting for a bad prom, complete with an ugly red carpet and garish inverted-pyramid chandeliers. An uneasy crowd of about 300 Penn State alums had gathered inside. They'd come to put questions to PSU president Rodney Erickson during the final stage of Erickson's three-act Sandusky-apologia roadshow. A town hall, it was called. (The first two towns had been Pittsburgh and Philadelphia.) I'd come to witness the stagecraft involved. The press, me included, was stationed at the back of the room and admonished to "respect their observer status." That meant no questions from us. Which was fine. Erickson wouldn't have answered anyway.
Earlier that day, I told my colleague Dom how, back in 2004, the paper I was working for in Jacksonville dispatched me to the airport to await the arrival of John Edwards, whom John Kerry had recently named his running mate. My purpose was not to talk to Edwards or even write a story about him. My purpose was to sit on the tarmac in the Florida sun and make sure that Edwards didn't die in a fiery plane crash. Because then I would have to call the newspaper so another reporter could write the story. (Newspapers weren't quite as broke then, but they were just as dumb.)
The Penn State town hall was the same deal. Who knew what might happen? Erickson might get pelted with avocado pits or stomped by a gang of Delta Kappa Epsilon brutes. There were several security types in bulging suits stationed around the inner perimeter of the grand ballroom. I knew there were others lurking in the wings, salivating at the prospect of some boohoo taking a shot at Erickson, which would give them the green light to kick ass. Nothing excites off-duty cops more than Taser-ing a college grad.
When Erickson replaced Graham Spanier (and before he announced that he'd be retiring in 2014), he made five public promises. Number three on the list: "Penn State is committed to transparency to the fullest extent possible given the ongoing investigations." That's the message these town hall meetings were meant to convey. Transparency. The first two were transparent enough. They were naked attempts by Erickson and his hirelings to regain "control of the narrative."