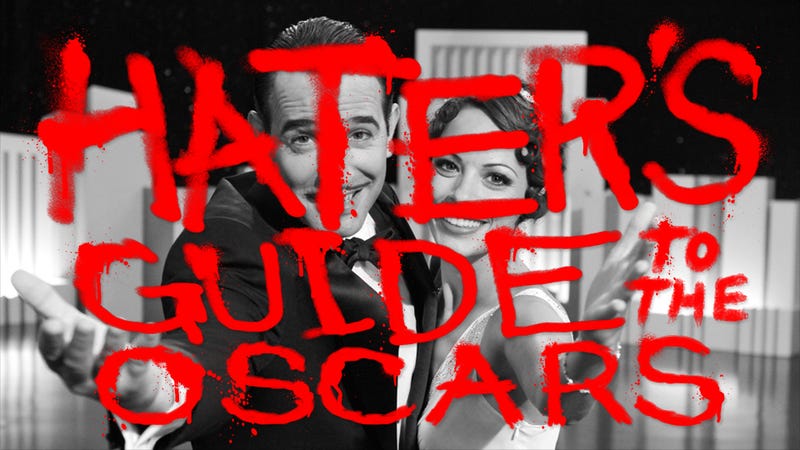 Ah, the Academy Awards. To give you a firm understanding of just how awful the Oscars are, consider this: This is the only entity in the universe that considers the inclusion of Billy Crystal to be an act of salvation. If they told you they were going to try and fix all the gaping plot holes of The Walking Dead by adding Billy Crystal to the cast, you'd be skeptical. If you were a child crying at your birthday party and your mom dragged in Billy Crystal, you'd be like, "Mom, what the fuck is Billy Crystal doing here? I TOLD YOU TO GET A CLOWN, YOU OLD HARPY." But with the Oscars, people are like OH THANK GOD! BILLY CRYSTAL IS HERE! AND HE BROUGHT THAT GAY DUDE WHO LOOKS LIKE SWEETUMS FROM THE MUPPETS TO WRITE ALL THE JOKES FOR HIM!
People, these awards are SHIT. They've been shit for a very long time, and they'll be shit long after we've all died. It's four hours of Hollywood gleefully face-fucking itself in front of you, with 15 minutes of Leno jokes interspersed throughout. It's like a presidential primary season: It's long and drawn out and expensive, and there's no one worth rooting for. At least the presidential primary season happens only once every four years. But with the Oscars, you get that shit annually. It's one of the most hateable things in the world, and it deserves a Deadspin hater's guide to call its very own.
Now, before I get into the nominees, I again remind you that a good hater's guide is dependent on the complete and utter ignorance of its author, and I have done my very best to NOT educate myself when it comes to these awards. I've seen only three and a half of the Best Picture movies (don't tell me what happens at the end of War Horse!). I have seen just five out of the 20 nominated acting performances, three of which came from one movie (The Help, which was RAYCESS). I haven't seen any of the documentaries nominated (they always look so cheap!). I haven't seen any of the nominated animated movies (eat shit, children of the world). And I definitely haven't seen any of the nominated Foreign Language movies. Come on. Like I'd ever watch a movie where everyone speaks Farsi. MOVE TO A REAL COUNTRY, GUY WHO DIRECTED A SEPARATION.
So, with all that ignorance at my disposal, let's get into the nasty business of saying horrible, abusive, possibly libelous things about these nominees:
BEST PICTURE
The Artist: Really, Academy? This is your front-runner? A silent French movie? OK, well don't come crying to me when your industry is fucking DEAD and none of your plastic-twatted trophy wives can afford to have their tits hoisted. And FUCK YOU to any movie that's about movies. When a movie like this comes out, critics jizz on their notepads and are like OMG! IT RESTORED THE MAGIC OF MOVIES! Shut up. Movies aren't magic. I go to movies because I want my kids to be quiet and because I like shouting at overly noisy teenagers. Bacon is magic. Movies are SHIT.
Hugo: Oh, look! It's another movie about movies! And it's ALSO set in France! Oh goody! My Francophile meta double feature is set! Huzzah! Hooray! I'm so happy I could shove a baguette up my ass! Here's a pro tip: Any movie featuring a child actor wearing schoolboy socks that go up his knees? COMPLETE WASTE OF TIME. It's softcore porn for pederasts.
Midnight in Paris: Oh, hey! MORE FRANCE! Just what I wanted! Let's see just how much FRANCE we can cram into this whole affair. And by the way, the people at Videogum pointed out one of the biggest plot holes in this piece of shit: When Owen Wilson traveled back in time, why didn't he kill Hitler? He travels back in time—which is a fucking MIRACLE, mind you—and all he cares about is getting edits to his novel? What a selfish bag of shit. I hated this movie, and I'm not just saying that because this is a hater's guide. It was puke.
Tree of Life: Listen, this movie isn't French, but it may as well be. The French ADORED it. And it has all the classic hallmarks of great French cinema, such as: no plot, no character arcs, no proper editing, and no interest in you, the viewer at home. Here is your art, you movie-going swine. TAKE IT AND SWOON OVER IT LIKE THE SHEEP THAT YOU ARE.
The Descendants: Is it French? No? Well Jesus, that's a relief. At least someone had the common courtesy to NOT bring another goddamn French movie to this fiasco. Anyway, The Descendants is the heartwarming tale of a rich lawyer trapped in a loveless marriage, whose wife goes into a coma and leaves him free to cruise the local Hawaiian beaches for dark, luscious young poon. Oh, and he has to decide whether or not to sell his impossibly valuable stretch of Hawaiian real estate either NOW or LATER, which is a real everyday problem, you know? I haven't seen a movie with this little on the line since A Good Year.
Moneyball: You know the A's never actually ended up winning anything, right? I mean honestly, it's like trying to make an inspirational film about the San Diego Chargers. Oooh! Oooh! Get C-Tates to play Marmalard!
Extremely Loud & Incredibly Close: Wasn't 9/11 so cute, you guys? I'll never forget that day, because 2,500 died and then I got to go on a TREASURE HUNT!
War Horse: Guess where Joey gets shipped after being sold to the British Army? You guessed it: FRANCE. Wonderful. I got France, and I got a fucking horse. It's the perfect combination of uninteresting topics. I assume that Joey goes on to collect pennies.
The Help: There's nothing more heartwarming than a movie that gets white people upset at other white people for writing movies about black people that also have white people in them. It's like a layer cake of racial-flame-war circle-jerking. Have you read the comments on this post? You will literally turn a new color once you're finished with them.