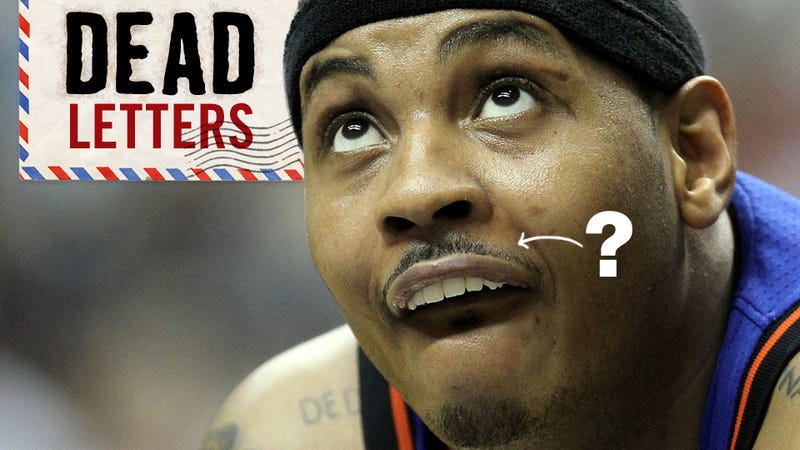 Welcome back to Dead Letters, the feature in which we reprint our favorite fan mail from throughout the week. It's like Deleted Scenes, but without all the scuzz money. We should take this moment to remind you that all emails to Deadspin and its editors are on the record unless otherwise specified. Now for your letters.
Subject: Melo's Hitler Mustache
From: Eric
To: The Staff

I'm a Knick fan. Is anyone gonna tell Melo that he needs to ditch his hitler mustache? If he hates jews, ok, that's his choice, but he plays for the NEW YORK Knicks—you can't wear a modified-Hitler-stache on the big stage in NEW YORK CITY and get away with it. Barkley called out MJ for his, now who will call out Melo? All these guys have 20 personal handlers on their staff, how has no one told him this?

Eric,
New York, NY
Ed. note: The above photo is from the game on Tuesday, April 3. Yeah, we don't know either.
Subject: UK Players Throwing Gang Signs During Introductions?
From: William [Last Name Redacted]
To: The Staff

Don't use my name if you post this.

Knowing a little bit about the topic, having tried to talk students out of joining gangs, I'm pretty sure several UK players threw up the Bloods gang sign during the introductions. One variation of the sign is a B made with the thumb and index finger put over the eye. This is the one they made. Perhaps they meant something else with the sign, or perhaps they were throwing gang signs on national TV.
Subject: The case of the missing podcast - sports guy
From: K M
To: The Staff

The Sports Guy did a podcast with Jonathan Abrams and Rembert Browne about the media coverage of the death of Trayvon Martin. Let's just say it was pro-hoddie.

It's no longer on the espn site. Maybe they took it down due to the edited 911 tape/maybe too much outrage from idiots like me. (they both could of walked away), but i think they flunked journalism 101 - facts before anything else.
Ed. note: the podcast is still available on ESPN.com.
Subject: Annals of Bullshit: The Myth Of The Myth Of Cal Ripken's Historic Home Run