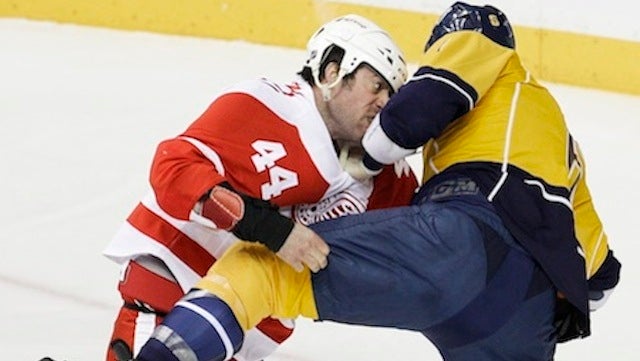 The feud between the Red Wings and Predators that began when Shea Weber smacked Henrik Zetterberg's head off the turnbuckle glass at the end of Game 1 has extended all the way to table tennis. At Joe Louis Arena, there's a ping pong table in the hallway between the home and visitors locker rooms. And yesterday, Detroit forward Todd Bertuzzi didn't much like it when he noticed a few Nashville players using it.
Red Wings TV producer Will Posthumus tweeted what happened next:
Today, Predators players were using the ping pong tables in the hallway outside of the locker rooms. Todd Bertuzzi saw this and then...

— Will Posthumus (@Will_Posthumus) April 17, 2012
...told them if they wanted to play they needed their own table, then folded up the table, and rolled it into the Wings locker room. #boom

— Will Posthumus (@Will_Posthumus) April 17, 2012
That oughta let 'em know who they're fucking with.
Update: Bertuzzi says he didn't move the table himself. He had someone in security do it.
Todd Bertuzzi plays ping-pong cop vs. Predators [Puck Daddy]
Todd Bertuzzi Would Like The Predators To Get Their Own Ping-Pong Table [Motown Lowdown]