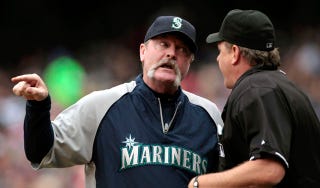 Welcome to Better Know An Umpire, an effort to educate ourselves on the human elements who have ultimate decision-making power over some 2,500 Major League Baseball games a year. (All cumulative statistics are through the 2011 season, unless otherwise stated.)
Name: Paul Emmel
Uniform number: 50
Age: 44
Height/weight: 6-foot-2, 225 pounds
First year as MLB umpire: 1999
Total MLB games worked through 2011: 1,552 (home plate: 391)
Previous experience: New York-Penn League, South Atlantic League, California League, Florida State League, Eastern League, International League
Career ejections: 45
No-hitters called: None
Over/under record (1999-2011): 165-186
Hated in: Baltimore, Atlanta, Seattle
Notable alleged blown calls: Giants-Braves, October 7, 2010 (Game 1, NLDS); Angels-Orioles, September 12, 2007; Rays-Mariners, August 6, 2004.
Claim to fame: For giving Tampa Bay a walkoff win over Seattle in 2004 after ruling that an infielder that had stood in front of Carl Crawford (the runner on third) and thereby prevented him from seeing a fly ball hit to the outfield. The ruling was "fielder's interference" and Emmel sent Crawford home with the winning run. (Seattle manager Bob Melvin was still seething the next day. As he handed the lineup card to the umpiring crew before the following game, he let loose on Emmel and Joe West ejected him before the game even started.)
Scouting report from Major League Umpires' Performance, 2007-2010, by Andy Goldblatt:
Paul Emmel is a solid pitchers' umpire. [From 2007-2010], his BB/9 was below the norm and his K/9 was above the norm. ... Despite his pro-pitcher leanings, once or twice a year Emmel gets finicky about the strike zone.
Scouting report from an angry (though somewhat philosophical) blog commenter:
I hate Paul Emmel because he sucks at his job, not because he sucks at something else.
Average K/9 (2011): 14.2
Average BB/9 (2011): 7.4
Sample PITCHf/x strike zone: May 11, 2010. This is what it looks like when an umpire (Emmel, in this case) issues 17 walks in one game. (Actually, this is a pretty consistent zone. Not too shabby, really.)
True fact: Graduated from Central Michigan University in 1991 with a degree in finance, though he started umpire training shortly thereafter. (Was also the home plate umpire when Josh Hamilton hit four homers in one game earlier this season.)