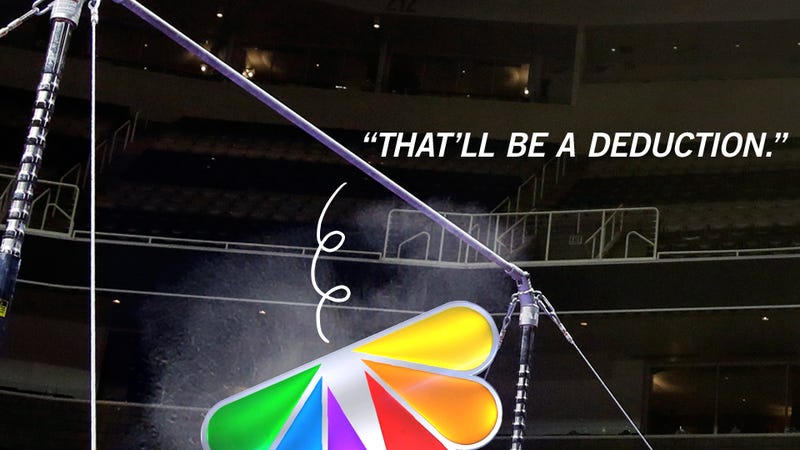 If you have a full-time job, no privacy at work, and/or a boss who cares about productivity, you probably didn't spend two hours in the middle of the day, like I did, watching the women's all-around Olympic gymnastics final. This means that you get to see it tonight on NBC, with routines sprinkled between the hours of 8 p.m. and 12 a.m. as Tim Daggett, Elfi Schlegel, and everyman Al Trautwig pretend that they are actually commenting live.
It really sucks to be you, because NBC's gymnastics coverage is the worst. NBC has been taking a drubbing due to its opening ceremony editing choices, "virtual live" primetime broadcasts, and accidental spoilers. But all of you Johnny-come-latelies need to get in line—gymnastics fans have hated NBC forever.
The Peacock network has had a virtual monopoly on gymnastics coverage in the States for years—not just the Olympics, but nationals, world championships, and the American Cup. If you want to watch gymnastics in the United States, you must do it through NBC's prism.
Gymnastics coverage doesn't have to be stupid. Back in the early to mid '90s, ABC had the rights to the world championships. Former gymnasts Bart Conner and Kathy Johnson-Clark nimbly guided viewers through the competition without putting down foreign competitors or using hyperbolic language to heighten the drama. Even the fluff pieces were adorable, like the one from the 1993 World Championships where Conner tried to keep pace working out with a 15-year-old Kerri Strug.
NBC, by contrast, produced fluff pieces that made Deva and Round Lake, the Romanian and Russian team training centers, look like Dickensian orphanages where families abandoned their athletically gifted children—while showing America's Dominique Moceanu playing on a seesaw. (Seriously, what 14-year-old do you know still plays on a seesaw?)
As current Olympic viewers are realizing, NBC rarely shows foreign athletes unless they are directly in competition with the U.S. During the women's team finals, the network showed few Chinese and Romanian routines, despite the fact that those two were in a heated contest for the bronze. Instead, we got endless shots of the U.S. girls and coaches on the sidelines talking, and two airings of the same exact video montage featuring poses from the five member squad—in case didn't realize just how photogenic this team is or you didn't catch their first names on the first try.
While I enjoy seeing teenage girls talk amongst themselves as much the next person does, it would've been nice if NBC had used the time to show some other countries doing gymnastics. If you really want to savor Team USA's camaraderie, just follow the gang on Twitter. They tweet a lot. The Olympics shouldn't look like a domestic meet.
As we've noted, NBC didn't show the floor routine of Ksenia Afanasyeva, the defending world champion on the apparatus, who crashed to her knees on her final tumbling pass—the moment that basically sealed the American women's first team gold medal in 16 years. Showing Russians unhappy and in tears is one of NBC's favorite pastimes, but seeing Afanasyeva stumble would've eliminated any sort of faux suspense that remained after Anastasia Grishina's enormous error.