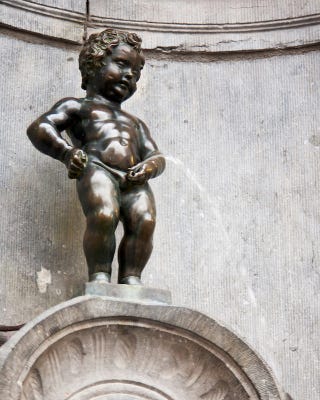 This has been reported all over the place, usually without much additional comment, and Lochte has yet to clarify that he was joking, so I guess it's a real thing. From TVGuide.com:
According to Olympic swimmer Ryan Lochte, it's common practice for athletes to pee in the Olympic pool.

"Of course," Lochte responded Friday during an interview on Ryan Seacrest's morning show, when Seacrest asked him if swimmers really do use the pool as a toilet.

"I think there's just something about getting into chlorine water that you just automatically go," the gold medalist added. "[I didn't] during the races, but I sure did in warm-up."
Maybe it's because the first mention of it came out on Friday afternoon, but for whatever reason, the reaction was mostly along the lines of, "yawn, the second most famous swimmer on earth pisses in the pool while he warms up, he says everyone does, they're all swimming in their own piss, whatever, moving on." Jezebel found it "unsurprising," these guys said the habit represented a "similarity to most people," The Daily Mail used it as a pivot to get back to that one-night stand thing, and Sports Illustrated made half a joke about endorsements. Examiner.com said, "If there was any point to be made, it is this is why celebrity hosts do not belong at the London Olympics."