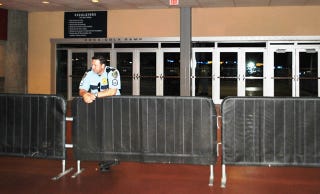 Houston Police have confirmed that a middle-aged fan, who was possibly intoxicated, died when he fell from a Reliant Stadium escalator Thursday night and was fatally injured.
CBS Houston identified the escalator in question (pictured here) and gives some details on what's known so far:
A 45-year old man attending the Texans preseason finale against the Minnesota Vikings fell to his death while horse-playing on an escalator at the Coca-Cola Gate near the northeast side of Reliant Stadium.

He was trying to slide down the outside of the handrail on the escalator when he fell three stories, landing on the pavement, police said.

He was rushed to Memorial Hermann Southwest.

The man, whose identity is still unknown to CBS Houston at this time, was said to be dead on arrival. Sources say the man had been under the influence of alcohol.
It was just over a year ago that firefighter Shannon Stone died after falling over a 20-foot-high railing at Rangers Ballpark in Arlington.