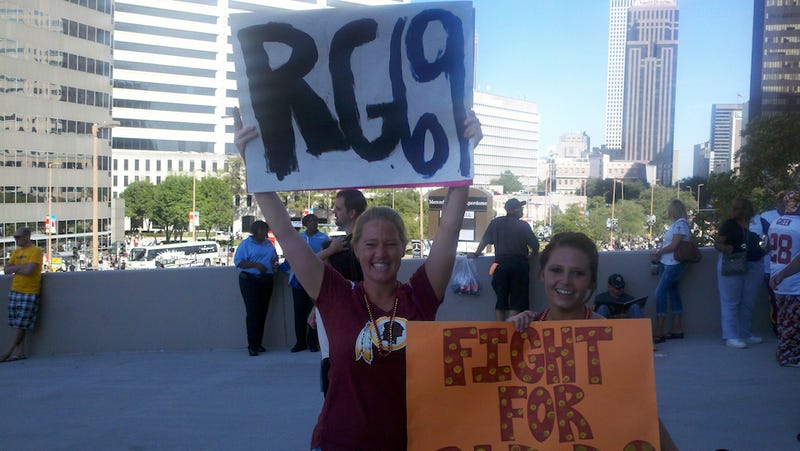 What. A. Day. We had a lot of highs and lows for the first weekend of the year but I can't believe it's basically over now. Robert Griffin III had himself a day. Ryan Tannehill had himself a day to forget. We'll fill you in on it all with the first Sunday roundup of the year. Thanks to commenter whodoyouknowhere for the image.
New York Jets 48, Buffalo 28: Well this game sure put a damper on the pregame narrative of the Bills rebooted defense and the Jets terrible offense. It also had that moment we were all waiting for with the scab refs: where their collective heads exploded. It happened right after the two minute warning before the half, on a review of a fumble with a potentially out-of-bounds recovering defender complicating things and a lateral during the return thrown in for good measure. New York is Super Bowl bound.
Chicago 41, Indianapolis 21: Jay Cutler is apparently fourth all-time on the Bears touchdown list. He's been on the team for like six months. That is a mess, Chicago.
Philadelphia 17, Cleveland 16: I may have been the only person who enjoyed the Dream Team gag from last year, but I do miss it. Anyway, Trent Richardson was responsible for nearly decapitating a person and if the Browns had actually won, that might have been truer than we'd all care to find out.
Detroit 27, St. Louis 23: Stafford threw a five yard touchdown pass with 10 seconds to go in the game to sneak past the Rams. Stafford taketh away after Stafford giveth, though. The Rams were able to hang around because of three Stafford interceptions in the first half. Most-annoying-person-on-the-planet Cortland Finnegan even took one of those interceptions 31 yards for a touchdown.
Houston 30, Miami 10: Ryan Tannehill threw three interceptions in six minutes. That is downright Pitinoean. Matt Schaub and Arian Foster shrugged off injury concerns with fairly standard performances. Foster had two touchdowns and 79 yards and Schaub threw for 266 and a touchdown on the day the Texans announced they extended him four years and $62 million.
Atlanta 40, Kansas City 24: Robotic nice guy Matt Ryan threw for 299 yards and three touchdowns as the Falcons beat up on Kansas City. Tony Gonzalez got his first touchdown at Arrowhead since leaving the Chiefs. Noteworthiness! (His dunk over the goal post worked out better than Vernon Davis's.)