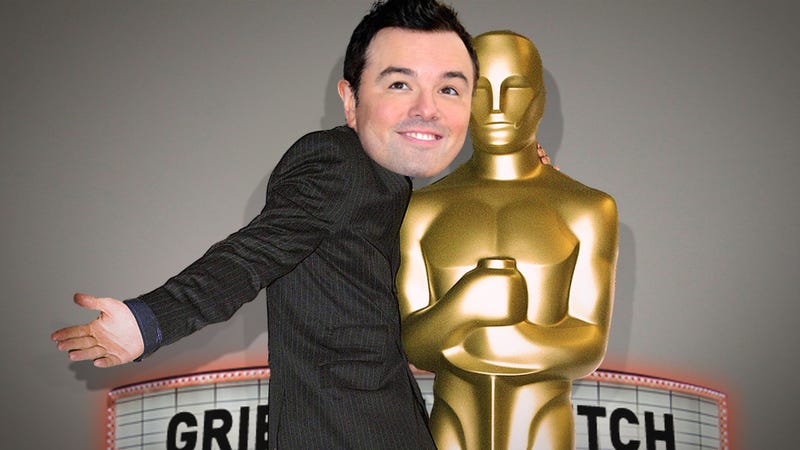 Yesterday, the Motion Picture Academy of America announced that Family Guy creator Seth MacFarlane would be hosting this year's Oscars. This was flabbergasting news, to say the least, and it took us a day to process it. We decided to talk it out, so that when we were done, it might actually make some sense. Here is The Grierson & Leitch Discussion: Seth MacFarlane, Oscar Host.
Leitch
All right, Grierson, now, you and I have always spent a lot more time thinking about Oscar hosts and Oscar telecasts than either one of us should or would like to admit. So I dunno about you, but when I heard that Seth MacFarlane was going to host the Oscars, I was apoplectic in a way that's, frankly, embarrassing. (Right after it was announced, I actually emailed you and Mark Lisanti, our old colleague at The Projector who's now at Grantland, "[cocks revolver] [shoots self]"
But I'm not sure why exactly I'm so upset about it. I mean, first off, it's a stupid awards show; they're always terrible, no matter who hosts, and even if they weren't terrible, they're stupid award shows that are becoming more and more irrelevant with every The Artist romp and Michael Fassbender omission. But also: Why is it that Seth MacFarlane repulses me so? I've only seen a few episodes of Family Guy—which I find so slack and ramshackle that it barely musters up the energy to exhale its weed smoke; I understand that experienced viewers have similar reactions—but I have no particular enmity toward it. I thought Ted was terrible and almost offensive in its sloth, but that shouldn't make a difference—About Cherry is one of the worst films I've ever seen, but I'm not retroactively booing James Franco about it. And his SNL appearance was obnoxious, but who cares? (People spend WAY too much time talking about that show, even when it's good.) Yet for some reason this felt like an affront, like inviting a drunk frat guy to some sort of celebration that your grandparents are having that you know is silly but also know is so important to them that you want to just let them have it. All the people out there, and they pick this dope? Just because he can sort of sing and his last movie made a lot of money? I have to think that Affleck is somehow behind this. New Englanders.