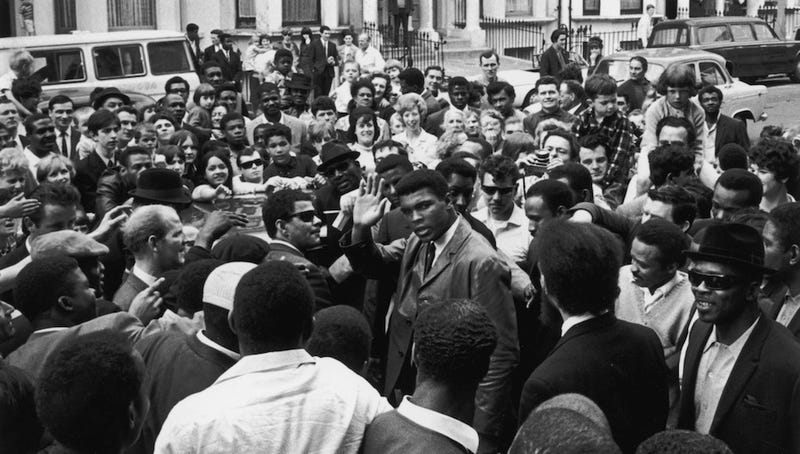 On Friday, we republished "My Dinner with Ali," Davis Miller's great story from 1989 about his life-affirming encounter with Muhammad Ali. Almost immediately, the comments section began filling up with readers' own accounts of meeting Ali. You can find a few of those through the links below, but you should really read them all, because they are wonderful.
Ariel84: "Several months later, I received the book back. Ali had not only signed the title page, but had flipped through the book, signing either 'Muhammad Ali' over pictures, or, if the pictures were from very early in his career, 'Cassius Clay.'"

Read...

Horsedrawnportrait: "I share a birthday with Ali; we are 25 years apart. I wrote him a month or so before my 10th birthday (Jan 17, 1977), and his reply arrived exactly on the big day: 'Happy birthday. You'll never catch up to me!'"

Read...

Willytvirgin: "Ali then whispered, 'You called me a niggah?' My hands dropped as did my jaw. I was stunned and about to say 'No' when Ali winked at me and smiled. SNAP! and the picture was taken."

Read...

Anacanapana: "I wrote Ali a letter a few years ago, after my young son and I had just watched a documentary about him. I just said how big a fan I was and how much my son had enjoyed watching him jab - both physically and verbally. A month or so later I got an autographed photo in the mail - blue Sharpie. I took my glasses off and looked at it closely - a wiggle was in each marker stroke."

Read...

RCWIII: "One of the women asked Ali - at that time - if she could give him a kiss... He said, 'I don't think it would do any harm.' She kissed him and he collapsed against the car sliding to the pavement. The women looked on in horror, as his Chauffeur grinned knowingly."

Read...
Got one of your own? Add it to the pile.